Created by
Alcohol Change UK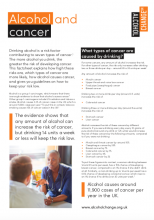 Drinking alcohol is a risk factor contributing to seven types of cancer.
The more alcohol you drink, the greater the risk of developing cancer.
This fact sheet, developed by Alcohol Change UK, explains how high these risks are, which types of cancer are more likely, how alcohol causes cancer, and gives you guidelines on how to keep your risk low.