Created by
Public Health England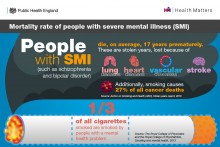 It is well documented that people with severe mental health issues are more likely to smoke compared to the general population. Smoking reduces physical wellbeing and is a key modifiable risk factor for health inequality.
Despite this, support to stop smoking as part of mental health recovery is limited
This edition of Health Matters focuses on smoking among the population of people living with a broad range of mental health conditions, ranging from low mood and common conditions such as depression and anxiety to more severe conditions such as schizophrenia and bipolar disorder.
The website includes infographics and videos on the following topics:
Overview of definitions
Information about the scale of the problem
The benefits of quitting smoking for mental health
Smoking cessation support for people with poor mental health