Created by
Africa Centres for Disease Control and Prevention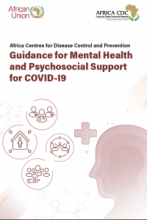 This document provides guidance to African Union Member States on key mental health and psychosocial support (MHPSS) considerations in relation to the coronavirus disease 2019 (COVID-19) pandemic.
It contains useful guidance on MHPSS for the community, healthcare workers, caregivers of vulnerable populations and people in quarantine, isolation or treatment centres.
This guidance aims to provide practical steps to reduce stress, anxiety, stigma and psychological disorders associated with COVID-19 and improve overall mental health and well being.
The document is designed to be used for planning purposes by policymakers and Ministries of
health and institutions coordinating emergency response to COVID-19 response by the Member States. It can also be disseminated to stakeholders.