World Drug Day : Let your voice be heard
Submitted by Mathias Ngong Njoya -
22 June 2020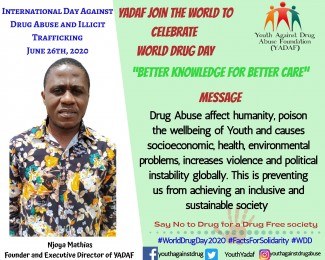 !!!!LET YOUR VOICE BE HEARD!!!!
 In view of the celebration of the International Day Against Drug Abuse and Illicit Trafficking which is also called World Drug Day, coming up on June, 26th.
Celebrating under the theme "Better knowledge for better care" YADAF is given you an opportunity to voice out your message about Drug Abuse and Illicit Trafficking.
 ▶️ How has drug abuse affect you, your family, community or country?
▶️What do you think about the theme of this World Drug Day?
▶️How can we better fight against drug abuse?
▶️Drug Abuse and increase violence and organise crime?
▶️Etc Expressed your view by simply sending your picture and your message to
Email: njoyajz [at] gmail [dot] com or
WhatsApp : +237674863017
Let us make our voice count in this fight
#WorldDrugDay2020
#FactsForSolidarity
#yadaf
#WDD