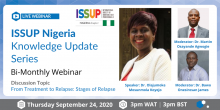 On 24th September 2020, ISSUP Nigeria presented thee second webinar of their Knowledge Update Series. This sessions topic focused on 'From Treatment to Relapse: Stages of Relapse'.
This session is intended to educate participants on;
• The factors that influence relapse
• The principles of relapse prevention
• The stages of relapse
• Emotional, mental and physical relapse
Time: Thursday September 24, 2020 at 3pm WAT / 3pm BST
Presenter: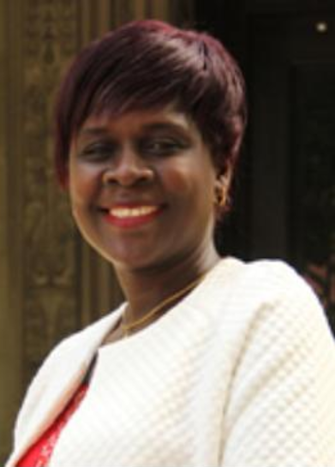 Dr. Olajumoke Mosunmola Koyejo
Dr Koyejo has been a medical doctor for about 17years and specialised in the field of psychiatry with further specialisation in addiction medicine. She obtained a degree of Bachelor of Medicine and Bachelor of surgery (MBCh.B) from Obafemi Awolowo University, Ile-Ife, Nigeria in 2003.  And certification as a specialist psychiatrist from National Postgraduate Medical College of Nigeria in 2012.  She received further specialisation as an addiction professional through the Fulbright scholarship training in Substance Abuse Prevention, Treatment, Education and Policy from Virginia Commonwealth University in USA; Certification in Tobacco Prevention, Treatment, Protection and Evaluation from the Ontario Tobacco Research unit and Centre for Addiction and Mental Health at the University of Toronto, Canada. She got additional qualification as an International Certified Addiction Professional from the Global Centre for Credentialing and Certification (GCCC) and International Centre for Credentialing and Education of Addiction Professionals USA.
Dr. Koyejo works as a consultant addiction psychiatrist at the Centre for Addiction Treatment, Education, Research and Advocacy of the Federal Neuropsychiatric Hospital Yaba, Lagos. In the hospital, she is also the national coordinator and an international trainer of substance use treatment education for the Colombo Plan Drug Advisory Programme courses in Nigeria. This position she has occupied since 2017 and has led to the training of over 300 addiction professionals in Nigeria. She has also participated in the training of addiction professionals outside the country.
During her periods of international studies, she had her horizon broadened with respect for details increased. This wide knowledge base has placed her at an advantage to treat wide range of patients/clients with substance use disorder and co- occurring mental illnesses. Her ability to see challenges as opportunity to learn, analytical mindset and efficiency has also placed her in a position to adapt evidence - based processes into her clinical, research and training practices.
Her professional goal is to continue creating evidence-based awareness in the field of addiction prevention, treatment, education, and advocacy.

Moderators: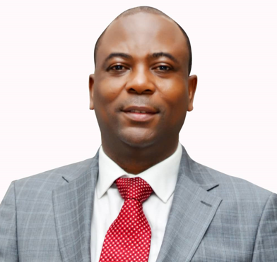 Dr. Martin Osayande Agwogie
National President, ISSUP Nigeria Chapter
Founder/Executive Director Global Initiative on Substance Abuse (GISA), an Asst. Professor, Virginia Commonwealth University, United States, A Global trainer Drug Demand Reduction, TREATNET Master Trainer, National Coordinator UPC in Nigeria & UTC National Trainer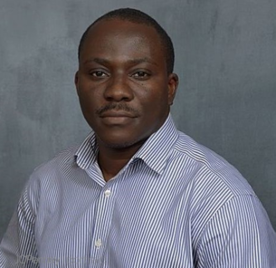 Dr. Bawo Onesirosan James
Publicity Secretary/Mobilization ISSUP Nigeria Chapter
Executive Director Manifold Rehabilitation Foundation. He is a National Trainer on the UTC, Master Trainer TREATNET and UNODC Focal Point Training and Head, Substance Abuse Treatment Education and Research Unit, Federal Neuropsychiatric Hospital, Benin-City, Nigeria