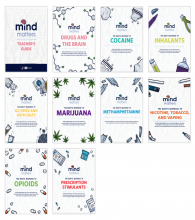 The National Institute on Drug Abuse (NIDA) has launched a redesigned series of booklets geared towards educating middle school students about substance use.
The Mind Matters series is a valued resource for tens of thousands of teachers. Each booklet is devoted to a specific drug or drug group.
Hard copies of the booklets in English can be ordered for free and both English and Spanish booklets are available online as printable PDFs. The accompanying Teacher's Guide, which includes background information and activities to enhance students' learning, is available online in a printable PDF format.