Addressing drug challenges in health and humanitarian crises: Settings in need of care for a comprehensive drug use prevention in Nigeria
Submitted by James (ISSUP staff) -
28 July 2022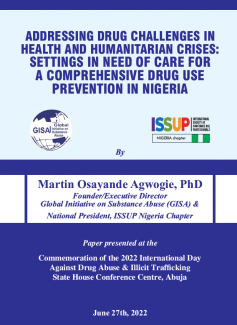 Paper presented at the commemoration of the 2022 International Day Against Drug Abuse & Illicit Trafficking, State House Conference Centre, Abuja, Nigeria on June 27th, 2022.
Author: Dr. Martin O. Agwogie
More than most countries of the world, Nigeria is plagued with the challenges of substance abuse which has become a significant threat to public health, national stability, peace, security and economic development. According to the first comprehensive national drug use survey conducted in Nigeria, 14.3 million adults aged 15-64 (14.4%) used at least one psychoactive substance (excluding alcohol and tobacco) in the previous year (UNODC, 2018). This figure is considerably higher than the 2016 global annual prevalence rate (5.6%) of all substances used among the adult population. In addition, among this 14.3 million people, 20% have SUD, a figure that exceeds the global average by 11%.
In view of the prevailing crisis of substance abuse in Nigeria, some of the settings that are experiencing crises and need urgent care are highlighted in this paper to guide policy interventions.