India, India,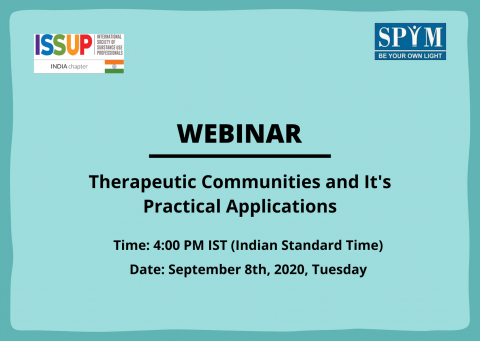 ISSUP India is pleased to invite you to attend a webinar on Therapeutic Communities and Its Applications. The webinar is scheduled to be present on Tuesday, Sep 8, 2020 from 4:00 pm to 5:30 pm | duration 1 hour 30 minutes | (UTC+05:30) Chennai, Kolkata, Mumbai, New Delhi. The webinar will be presented in Hindi.
Click here to join: https://tsuwb.webex.com/tsuwb/j.php?MTID=m879fbe9e84302b8545d266d85795222e
Meeting number: 170 577 0526
Password: 6BepjFpHN63
Join by video system
Dial 1705770526 [at] tsuwb [dot] webex [dot] com
You can also dial 210.4.202.4 and enter your meeting number.

Join by phone
+65-6703-6949 Singapore Toll
Access code: 170 577 0526
Description: While substance use is a problem that an individual faces, the complications of it are dealt by the community at large. The question it beckons- do communities have to have to step up and come to help and aide the ones suffering? The idea of a community, team building and the approach of clients and therapists living together does further the idea that communities' have to step up. 
In this webinar, we focus the practical applications of the therapeutic communities and how we can implement them at our facilities.