Rome, Italy,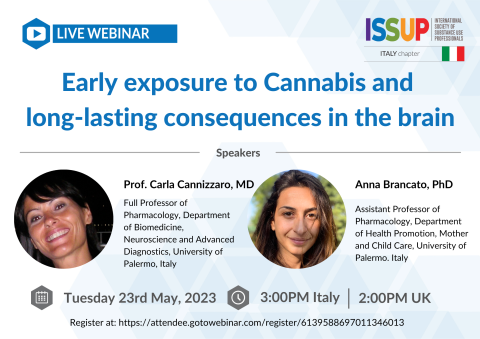 ISSUP Italy would like to invite you to their upcoming Webinar on How early exposure to cannabis can misshape the brain and exert long-lived effects.
Time: 3PM Italy Time | 2PM UK Time
These are momentous years for cannabis and cannabinoids: acceptance of their use for both recreational and self-medicating purposes is growing worldwide, resulting in popularity among vulnerable populations such as adolescents and pregnant women. Neurodevelopmental epochs are extremely sensitive to early exposure to drugs of abuse, and cannabinoids especially interfere with key neurodevelopmental processes, producing durable consequences in the brain. The research group of Prof. Carla Cannizzaro at the University of Palermo, Italy, employs a translational model of in-utero exposure to ∆-9THC, the psychoactive element in cannabis preparations, and has recently highlighted behavioural deficits in cognitive and affective domains, and increased vulnerability to alcohol abuse in adolescent offspring. The behavioural deficits are associated with abnormal modulation of the excitatory neurotransmission in multiple brain regions, which involve alterations of neuropeptidergic systems. In this webinar, Prof. Cannizzaro and her collaborator, Dr. Anna Brancato, will illustrate updated evidence on the consequences of developmental exposure to cannabinoids, and present data supporting possible rescue strategies.
Learning Outcome:
The audience will learn about the endocannabinoid system's neurodevelopmental role and will acquire updated empirical information on the consequences of developmental cannabinoid exposure.
Presenters: 
Prof. Carla Cannizzaro, MD
Department of Biomedicine, Neuroscience and Advanced Diagnostics, University of Palermo, Italy.
Carla Cannizzaro is Full Professor of Pharmacology and Chief of the Laboratory of Neuropsychopharmacology of the University of Palermo, Italy. She has a long-standing expertise in the study the cognitive and affective consequences of early exposure to psychotropic drugs and substances of abuse, focusing her research activity on the identification of relevant neurobiological underpinning. Besides, Professor Cannizzaro's activity has been devoted to actions for the prevention of drug use in educational, academic, and institutional settings.
Anna Brancato, PhD 
Department of Health Promotion, Mother and Child Care, Internal Medicine and Medical Specialties of Excellence "G. D'Alessandro", University of Palermo, Italy.
Anna Brancato is Assistant Professor of Pharmacology and member of the Laboratory of Neuropsychopharmacology of the University of Palermo, Italy. Through world-wide research in the most acknowledged labs in the field, she has expertise in experimental models of substance abuse during adolescence, helpful for highlighting translational biomarkers of the detrimental consequences of drugs on the still-maturing brain and behaviour.
***************
Ascolta il webinar in italiano: https://meeting.interactio.com/listen/search?eventCode=ISSUPItaly
Inserisci il codice: ISSUPItaly
Per connettersi tramite telefono: Il modo migliore è aprire il programma Interactio sul telefono e ascoltare l'interpretazione tramite telefono e videoriunione attraverso il computer.
Per connettersi tramite computer: se si desidera ascoltare Interactio sullo stesso dispositivo della riunione video, è necessario disattivare l'audio della riunione video selezionando "Nessun audio" e ascoltare solo tramite Interactio.

Webinars and online events delivered and hosted by the International Society of Substance Use Professionals (ISSUP) are provided for informational purposes only. They are educational in nature and do not constitute medical advice, diagnosis or treatment.