Nur-Sultan, Kazakhstan,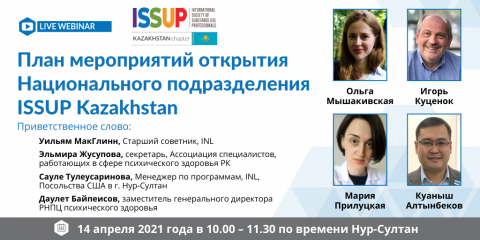 The ISSUP Kazakhstan team is pleased to welcome you to the upcoming opening ceremony of the National Unit of the International Society of Substance Use Professionals (ISSUP) Kazakhstan, which will be held online April 14, 2021 at 10:00 a.m. - 11:30 a.m. Nur Sultan time.
"The role of ISSUP in Central Asia"
Olga Myshakiwskaya - ISSUP Regional Coordinator for Asia
Welcome word
William McGlynn (USA) is Senior Advisor to the Bureau of International Narcotics And Law Enforcement (INL).
Elmira Yusupova - (Kazakhstan) Secretary, Association of Mental Health Professionals
Saule Tuleusarinova (Kazakhstan) - Program Manager for the International Narcotics And Compliance Division of the U.S. Embassy in Nur Sultan
Daulet Baipeisov (Kazakhstan) - Deputy Director General of the RNPC Mental Health
"Providing assistance to people with PPR as a result of the use of PAV in the Republic of Kazakhstan, prospects for cooperation with ISSUP"
Kuanysh Altynbekov (Kazakhstan) - Deputy Director General of the RNPC Mental Health, Head of NC ISSUP Kazakhstan
"Amphetamine type of substances - clinical problem and therapeutic approaches"
Igor Kustusy (USA) -
M.D., Professor of Psychiatry,
University of California San Diego, Director of the Department of Psychiatry, Center for Crime and Drug Addiction Research, Director of Training Programs and Applications, International Technology Transfer Center - Ukraine
Vice-President of the International Consortium of Universities to Reduce Drug Demand
"New drug challenges in clinical practice"
Maria Prilutskaya (Kazakhstan) - Assistant of the Department of Personalized Medicine and Pediatrics, Pavlodar branch of NAO "Medical University of Families"