AWARENESS RAISING LECTURE AGAINST SUBSTANCE USE BY PAK YOUTH WELFARE COUNCIL IN COLLABORATION WITH ISSUP PAKISTAN, YOUTH FORUM PAKISTAN AND ANTI-NARCOTICS FORCE PUNJAB AT LAHORE.
Saima Asghar -
7 November 2020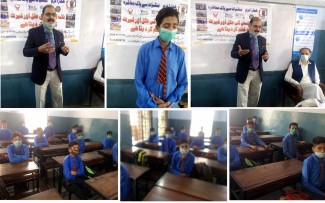 On Dated 3rd November, 2020 Dr. Ali Sabri President Pak Youth Council, Lahore Organized A Awareness raising against Substance Use at GOVERNMENT ISLAH-E-MUASHRA HIGH SCHOOL, LAHORE in collaboration with ISSUP Pakistan, Youth Forum Pakistan (For Drug Use Prevention) and Anti-Narcotics Force Punjab at Lahore.
Lecture was started with the recitation of Holy Quran and Naat and then Honorable Teacher of this School introduced Mr. Ari Ali introduce the Speaker Dr. Ali Sabri and his Organization and shared the cause of this gathering and Lecture was started about the harmful consequences of Drug use and aware student how they can save their self from substance Use also shared the skills and How to Say ''NO'' and live A Drug Free Healthy Society. Principle Mr. Arif Ali shared the vote of thanks to the Speaker Guest and appreciated his effort to choose their institute.