Ecolink Institute organizes psycho education series
Thomas Scaria -
3 August 2022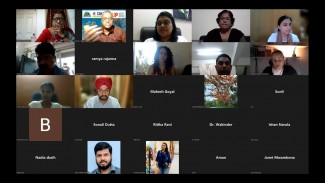 Mangalore: The Ecolink Institute, ISSUP Award winner for "Excellence in Training Provision" started a psycho-education series for the general public, which is live streamed in the YouTube channel.
The event, held in collaboration with its Alumni Association and ARCO-India has eight presenters on August 2, which discussed topics like introduction to psychoactive substances, adult children of alcoholics, dry drunk symptoms, emotional health, new substances of abuse, and the first two steps of Alcoholics Anonymous.
Dr.Meenu Singh, Joint Director, National AIDS Control Organization for the state of Punjab was the special guest on this occasion who spoke about the link between substance use disorder and HIV/AIDS.
The senior officer from the Government of India appreciated the Alumni of the Ecolink Institute for selecting innovative topics and presenting it in an excellent way.
The selected presenters with good training skills will assist the Institute in organizing regional eco training of UTC for various language groups. Dr.Jaskanwar Dillon, Louella Rogers, Shangreila Sharma, Shalini Sagar, Ramya R, Revati Swamy, Sulekha Venugopal, and Dr.Mohamad Nazri presented various topics for psycho-education. (https://youtu.be/549Umjgg8f4) 
The Institute initiated UTC training in Hindi and Tamil as pilot programs.