Webinar, United States,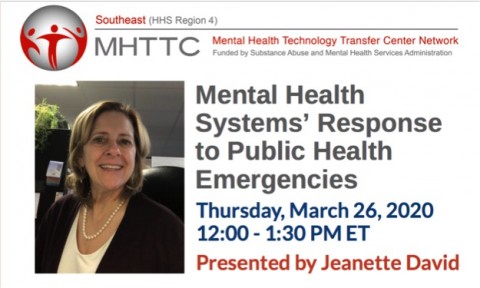 Public health emergencies can render several challenges for mental health facilities' capacity to provide care to the populations they serve. Administrators and providers can take crucial steps to prepare for these emergencies and respond when they occur.
On Thursday, March 26, 2020, from 12:00 to 1:30 PM ET (US time), Jeannette David, the Disaster Mental Health Coordinator for the state of Georgia, will present the webinar 'Mental Health Systems' Response to Public Health Emergencies.' To register for this free webinar, hosted by MHTTC Southeast, please click here.
This webinar will explore how organizations can prepare for public health crises, develop continuity of operations plans, make necessary service modifications, and address staffing concerns.