Dushanbe, Tajikistan,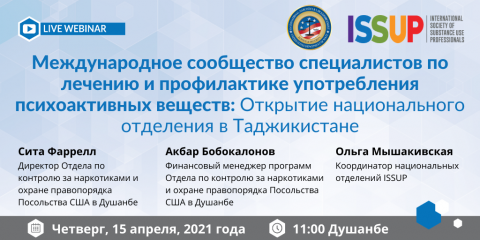 The purpose of this event is to familiarize participants with the activities of ISSUP and its worldwide network of national offices to people working in the area of reducing the demand for drugs and drug abuse in Tajikistan. By joining this webinar, participants will learn more about the organization and its work, ISSUP activities, the benefits of membership and opportunities for further professional development. We will discuss the prospects for possible cooperation and the opening of a national office in Tajikistan and invite participants to join the global community of ISSUP professionals in reducing the demand for drugs and drug abuse.
Thursday, April 15, 2021 11:00 a.m. (Dushanbe, Tajikistan)
Confirm your participation no later than Monday, April 12,by email: BobokalonovAA [at] state [dot] gov with your name, the name of the organization you represent and brief information about it, contact information and email. We'll send you an invitation with a link to the meeting.
1. Opening speech
Ms. Sita Farrell, Director of the Drug Control and Law Enforcement Division of the U.S. Embassy in Dushanbe
2. Introduction to the U.S. Embassy's Drug Control and Law Enforcement Program to reduce drug demand
Mr. Akbar Bobokalonov, Financial Manager, Drug Control and Law Enforcement Division, U.S. Embassy in Dushanbe
3. Introduction to ISSUP - a global focal point for reducing drug demand
Ms. Olga Myshakivskaya, IsSUP National Coordinator
4. National Office Survey - Their Role in Reducing Drug Demand
Ms. Olga Myshakivskaya, IsSUP National Coordinator
5. Opening a national office in Tajikistan - requirements and opportunities
Ms. Olga Myshakivskaya, IsSUP National Coordinator
Final word - questions and answers