Washington DC, United States,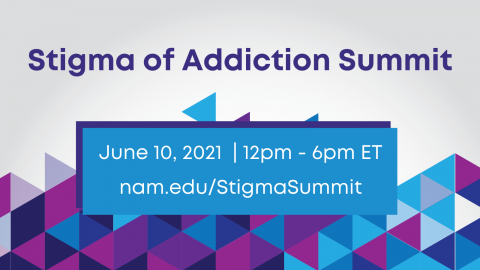 Thursday, June 10, 2021
12:00 PM – 6:00 PM EDT (Washington, DC time)
The National Academy of Medicine, Dell Medical School at The University of Texas at Austin, and Shatterproof are pleased to announce the Stigma of Addiction Summit: a half-day, virtual, action-oriented summit entirely dedicated to understanding, addressing, and eliminating the harmful impacts of stigma on people who use drugs. The goal of the Summit is to elevate current efforts at reducing stigma, identify successes and gaps in the evidence base, and prioritize and identify areas for future research and funding with an explicit focus on stigma, which is often touched upon only marginally in broader conversations about addiction. The Summit will be an active and forward-looking sharing of ideas and actions to advance how stigma is addressed and reduced as those with addiction seek and obtain treatment, and will be focused on reaching all stakeholders of the U.S. health ecosystem, including those in clinical service delivery, health system stakeholders, universities and academia, public health organizations, and professional member organizations.
The Stigma of Addiction Summit has been organized by an interprofessional and interdisciplinary planning committee of people in recovery, clinicians, health profession educators, addiction medicine professionals, government stakeholders, and health professional organizations.
The Stigma of Addiction Summit is free to attend and will be recorded for viewing after the event ends.
Summit Agenda
Presenters are being finalized – this agenda will be updated in the coming weeks.
12:00pm ET  |  Welcome and Overview of the Day
12:05pm ET  |  Opening Keynote
12:50pm ET  |  Transition to Concurrent Sessions and Logistics Overview
1:00pm ET  |  Concurrent Sessions (choose one to attend)
Session 1.1 – Stigma of Drug Use, Treatment, and Harm Reduction
Session 1.2 – Stigma in the Healthcare Setting
Session 1.3 – Structural Stigma and How Systems Discriminate and Intersect
2:15pm  ET  |  Break
2:45pm ET  |  Concurrent Sessions (choose one to attend)
Session 2.1 – The Role of Advocates and Families
Session 2.2 – How to Intervene or Change Behavior in Real Time
Session 2.3 – Research, Evidence, and Mechanisms for Action
4:00pm ET  |  Innovation Session Video Presentation
4:30pm ET  |  Closing Keynote
5:30pm ET  |  Adjourn
*subject to change*