New Delhi, India,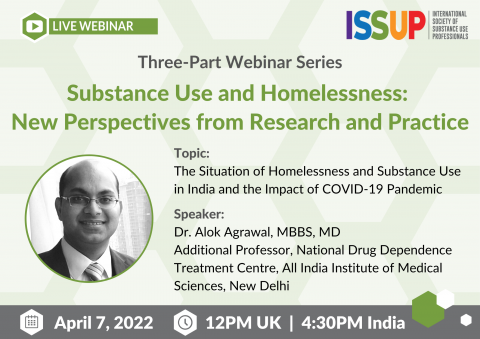 ISSUP are pleased to present the Final Event in the Webinar Series on Substance Use and Homelessness: New Perspectives from Research and Practice.
Time: 12PM UK Time / 4:30PM India Time
The third webinar will focus in on the situation in India and will highlight:
Extent of homelessness in India
Epidemiology of substance use among homeless populations
Service availability and access
Challenges in providing treatment for substance use disorders to homeless substance users
Impact of the COVID-19 pandemic
Learning Outcome:
Developing an understanding of the vulnerability of homeless population to substance use with a specific focus on India and the challenges encountered due to COVID-19.
Presenter:
Dr. Alok Agrawal,
MBBS, MD
Additional Professor
National Drug Dependence Treatment Centre,
All India Institute of Medical Sciences, New Delhi
Webinars and online events delivered and hosted by the International Society of Substance Use Professionals (ISSUP) are provided for informational purposes only. They are educational in nature and do not constitute medical advice, diagnosis or treatment.