Cape Town, South Africa,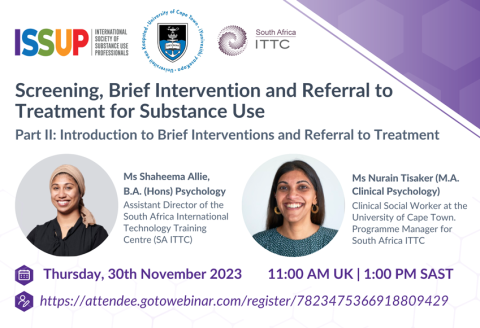 ISSUP is pleased to present part two of its webinar series on Screening, Brief Intervention, and Referral to Treatment (SBIRT). This two-part series has been organised in collaboration with ISSUP Global, The South Africa International Technology Transfer Centre (ITTC), and the University of Cape Town, South Africa.
Time: 1:00 PM SAST | 11:00 AM UK Time
Screening, Brief Intervention and Referral to Treatment (SBIRT) is a comprehensive public health approach for detection, early intervention, and referral to treatment services to people using substances in a harmful or risky way. This evidence-based approach has been demonstrated to be effective in facilitating an integrated treatment approach for clients. 
The two-part  SBIRT webinar series will seek to: 
Identify the components of SBIRT and to facilitate understanding the goal of SBIRT.  
Provide the basis for a health systems approach to integrating SBIRT into health care. 
Facilitate understanding of the meaning of universal screening.  
Make explicit the levels of risk and their implications. 
Introduce the recommended best-practice screening tools with a focus on the WHO ASSIST 
To introduce to Referral to Treatment (RT), the last step in the SBIRT model 
Part II of the webinar series will delve into:
Brief Interventions 
Goals of BI 
Why BIs and the Decision tree 
Referral to Treatment 
Introduction to the purpose and process of Referral to Treatment 
A Warm Hand Off approach 
What to do when a client says ''No'' to treatment 
How to proceed when a client says ''Says'' to treatment
Intended audience: 
All health care workers to attend, both professional and non-professional. Audience can be from any type of healthcare or social facility.  
Learning outcomes  
Part II: 
To be able to provide the brief intervention model. 
To be able to provide a warm-hand off approach in referral to treatment. 
Presenters:
Ms Shaheema Allie, (B.A. (Hons) Psychology) 
Shaheema Allie serves as the Assistant Director of the South Africa International Technology Training Centre (SA ITTC) and oversees the training and curriculum development and coordination, whereby she develops and adapts curricular to be disseminated nationally. She trains professional and non-professionals across South Africa in Motivational Interviewing and Screening, Brief Intervention and Referral to Treatment (SBIRT) and is part of a few research projects at UCT. She has also facilitated on the web app ASSIST development. She is also the course convenor for the PGDip in Public Mental Health and is a lecturer on the PGDip in Addictions Care at University of Cape Town (UCT).   
Ms Nurain Tisaker (M.A. Clinical Psychology)
Nurain Tisaker is Clinical Psychologist who initially trained as a Clinical Social Worker at the University of Cape Town. She has worked in in-patient psychiatric, substance abuse and eating disorder treatment centres over the past 13 years and currently runs a small private practice servicing general mental health concern including substance use disorders in Cape Town. As the Programme Manager for South Africa ITTC Nurain oversees the training related activities and plays a role in developing and refining curricula. She has been involved in the Basic Mental Health and Practitioner Self-Care Training, which aims to empower non-specialist providers about mental healthcare.  
Kindly note this is Part II of the two-part webinar series.
***********************************
Interpretation
Interpretation Instructions for Spanish speakers:
Access the Spanish Interpretation: https://meeting.interactio.com/listen/search?eventCode=ISSUP
Enter the meeting code: ISSUP
Select the language channel Spanish

A few important details on how to listen to the interpretation:
By phone: The best way is to open the Interactio app and listen to the interpretation on your phone while watching the video meeting through your computer;
By computer: If you want to listen to the interpretation on the same device as the video meeting, you will need to select 'No Audio' in the GoToWebinar Control Panel, and only listen through the Interactio web app at app.interactio.io
Webinars and online events delivered and hosted by the International Society of Substance Use Professionals (ISSUP) are provided for informational purposes only. They are educational in nature and do not constitute medical advice, diagnosis or treatment.