Guidelines on the Management of Co-Occurring Alcohol and Other Drug and Mental Health Conditions in Alcohol and Other Drug Treatment Settings
Submitted by Kira Weir -
19 April 2018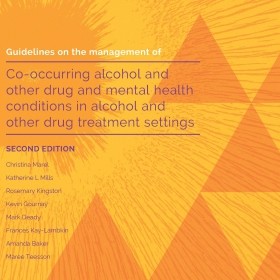 First published in 2009 and updated in 2014 the  Guidelines on the Management of Co-Occurring Alcohol and Other Drug and Mental Health Conditions in Alcohol and Other Drug Treatment Settings are offered in tandem with an online training programme. 
Created by the National Centre of Research Excellence in Mental Health and Substance Use (NARDC) and funded by the Australian Government Department of Health, the resource is free to access through the NHMRC. It was developed in consultation and collaboration with clinicians, researchers, consumers, and carers from across Australia.
The guidelines are designed to improve knowledge and awareness of the comorbidity of mental illness and substance use problems and make it easier for practitioners and clinical staff to implement evidence-based care approaches.