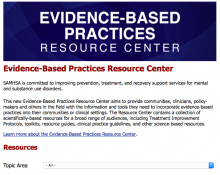 SAMHSA has launched the new Evidence Based Resource Center which will allow practitioners to find tools, manuals, clinical practice guidelines and science based-resources. 
Available directly through the SAMHSA website, the digital resource centre, aims to be a "dynamic response to changing science and evidence". It is hoped online access to evidenced-based resources in this way, will improve collaborative work, practice and increase the reach of interventions and treatments. 
Key topics featured fall under the categories of mental illness, substance use prevention and treatment with a focus on opioid specific resources. Visitors can also refine their search to find resources suited to different populations for example, children and young people, women and pregnant women. 
All of the resources are available in English with a wide ranging audience catered for from educators and prevention professionals, to patients, caregivers and policy makers. 
Find out more about the development of the resource centre on SAMHSA's website here.