Created by
The National Association for Children of Alcoholics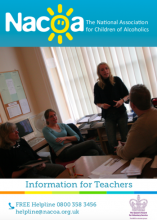 In classrooms across the UK 1 in 5 children are carrying the burden of someone else's drinking.
The National Association for Children of Alcoholics have developed a new resource to help teachers identify children affected by their parent's alcohol consumption.
The leaflet provides information about common issues that can occur and guidelines for helping children they feel may be impacted.