Ecolink Alumnis honor Global Trainers on Intl Women's Day
Submitted by Thomas Scaria -
10 March 2022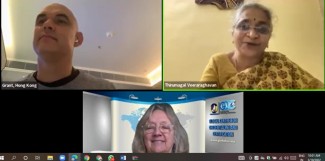 Ecolink Alumnis honor global trainers as outstanding Women of the Year on Women's day.
Mangalore, India: Ecolink Alumni Association with over 200 students from 18 countries honored its Master trainers who trained over 250 addiction professionals in the most difficult Pandemic period.
The award ceremony held on the  International Women's Day, March 8 honored Dr.Thirumagal V. as the "Woman of Excellence" and Ms. Aditi Ghanekar as the "Woman of Inspiration". The chief guest of the function was Becky Vaughn, the Director of Global Center for Credentialing and Certification (GCCC).
The Alumnis  have also honored Ms. Nandita Kapoor one of the UTC graduates who excelled also as an Aquatic Champion with over 25 Gold medals in international events as "Woman of the Year".
Ecolink Institute, an approved training provider of the Colombo Plan is the only agency who  trained addiction professionals and mental health practitioners in Universal Treatment Curriculum during the pandemic period with online live sessions. Ecolink is continuing with its 7th batch of UTC with students from over 13 countries now.
Dr.Thirumagal, who is bestowed as the "Woman of Excellence" have over 35 years of clinical experience in SUD and have completed 25 years as a global trainer. She was hailed as one of the most effective and dynamic trainer of addiction professionals around the globe. She has also contributed her expertise by developing curriculums and research papers.
Ms. Aditi Ghanekar, who is assigned the honor of "Woman of Inspiration" is also a trainer with over 20 years of full time clinical practice and equal period as global trainer. She is liked by most of the students as an inspiring teacher with stuff and smile.
Ms. Nandita Kapoor, who has completed her UTC training online has represented India in several International aquatic championships and won over 25 Gold medals, and the latest with 7 gold medals in Indo-Sri Lankan championship in March, 2022. She is bestowed the "Woman of the Year" award.
Dr.Thirumagal said when the whole world was stuck with the pandemic, it was Ecolink Institute who took initiative to initiate online training at zoom platform, which kept me active during the period", she said. "The students excelled in the training proving online training also as equally powerful", said the global trainer who observed excellent results in ICAP exams too.
Ms. Becky Vaughn presented the awards to the winners as Ramya R compered the function and Mr. Grant Sanders, Mr.Guy Paillard and Dr.Manish Shukhla presented the recitations. Dr.Thomas Scaria, Director of the Institute proposed a Vote of Thanks.