Alcohol Use Disorder and its Treatment with Medications and Nutrition
Submitted by Olivia Woodrow -
26 September 2022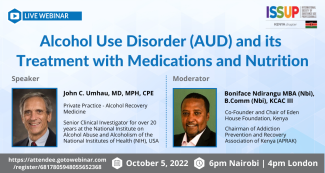 ISSUP Kenya present their next Webinar on Alcohol Use Disorder and its Treatment with Medications and Nutrition.
Over the last decades, science has made great advances to understand the processes in the brain which promote alcohol use disorder (AUD). This has created a great opportunity to develop a new paradigm for treatment that incorporates biological as well as social, psychological, and spiritual aspects of AUD. This talk will discuss how to clear the mind with proper nutrition, how to cut the craving for alcohol with inexpensive medications, and the need to create a recovery culture that embraces new ways of helping people find freedom from alcohol.
Presenter:
Dr. John C. Umhau MD MPH CPE, 
For over 20 years Dr. Umhau was a senior clinical investigator at the National Institute on Alcohol Abuse and Alcoholism (NIAAA) of the National Institutes of Health, (NIH). As a Commander in the United States Public Health Service, he also served as Clinical Director for an Indian Health Service Hospital in Whiteriver, Arizona and as a Medical Officer in the Division of Psychiatric Products of the FDA. His scientific interest in nutritional neuroscience is informed by decades of clinical experience, and he has a private telemedicine practice focusing on treatment of alcohol use disorder with medications and diet to eliminate craving. He has published more than forty peer review scientific articles, and is on the medical review board of Verywell Mind, a popular online resource. He is the immediate past president of the Academy of Medicine of Washington, District of Columbia.

Dr. Umhau completed a residency in Clinical Preventive Medicine at Johns Hopkins, and is board certified in both Addiction Medicine and Preventive Medicine. He received a bachelor's degree from Davidson College, a Medical Degree from Wake Forest, an MPH from Johns Hopkins University, and is a Certified Physician Executive.
Moderator:
Boniface Ndirangu MBA (Nbi), B.Comm (Nbi), KCAC III
A social entrepreneur, Boniface co-founded the Eden House Group and chairs Eden house foundation.  He has 19 years' experience in the Addictions treatment and Recovery field in Kenya.  He has been invaluable in initiating a number of 12-step fellowship meetings in Nairobi, Mombasa and the region. He has represented Kenya in recovery symposiums in South Africa 2004, USA 2007, India 2012 and Israel 2012   He holds an MBA in Finance, and a Bachelor of Commerce degree in Marketing, both from the University of Nairobi. Boniface is an alumnus of Starehe Boy's Centre and NLC (New Leaders Council) 2009 Fellow San Francisco Chapter and the SHALOM family in Kenya.  He is an active community organizer (Fresno CA, 2009) and has attended numerous training and certification programs in addictions (NACADA level I, II, III training by NACADA authority) and community related programs and rehabilitation centres in Kenya. He is the current chair to Addiction Prevention rehab association of Kenya www.aprak.org

Webinars and online events delivered and hosted by the International Society of Substance Use Professionals (ISSUP) are provided for informational purposes only. They are educational in nature and do not constitute medical advice, diagnosis or treatment.