Introduction to Forensic Substance Use Evaluation
Submitted by Olivia Woodrow -
2 August 2023
ISSUP and the National Board of Forensic Evaluators (NBFE) are pleased to present their collaborative Webinar on conducting a Quality Forensic Substance Use Evaluations.
Forensic substance use evaluations are substance use evaluations conducted for the courts or other legal proceedings. Throughout the world, stakeholders in legal systems need the expertise of substance use professionals to answer important questions for both criminal and civil cases.  Clients with substance-related problems often deny, minimize, rationalize, and under-report, whether intentionally or unintentionally, making accurate evaluation very challenging. Additionally, there are many incentives for clients to avoid full disclosure, because the stakes are often so high (e.g., child custody evaluations, sentencing evaluations, etc.). In spite of these challenges, there are many strategies and techniques that substance use professionals can use to differentiate fact from fiction, arriving at a defensible conclusion that the clinician can feel confident about. This training was designed to provide an overview of those strategies.
Please note that some of the standards, models, and tools reviewed in this webinar are often used in the United States, Canada, Australia, and some European countries (e.g., the Diagnostic and Statistical Manual of Mental Disorders, ASAM Treatment Criteria, codes of ethics of various associations, tests originally normed for US populations such as the SASSI-4). Applicability with other populations and in other regions and legal systems may vary.
Register for the NBFE and ISSUP 2023 Virtual Forensic Certification Workshop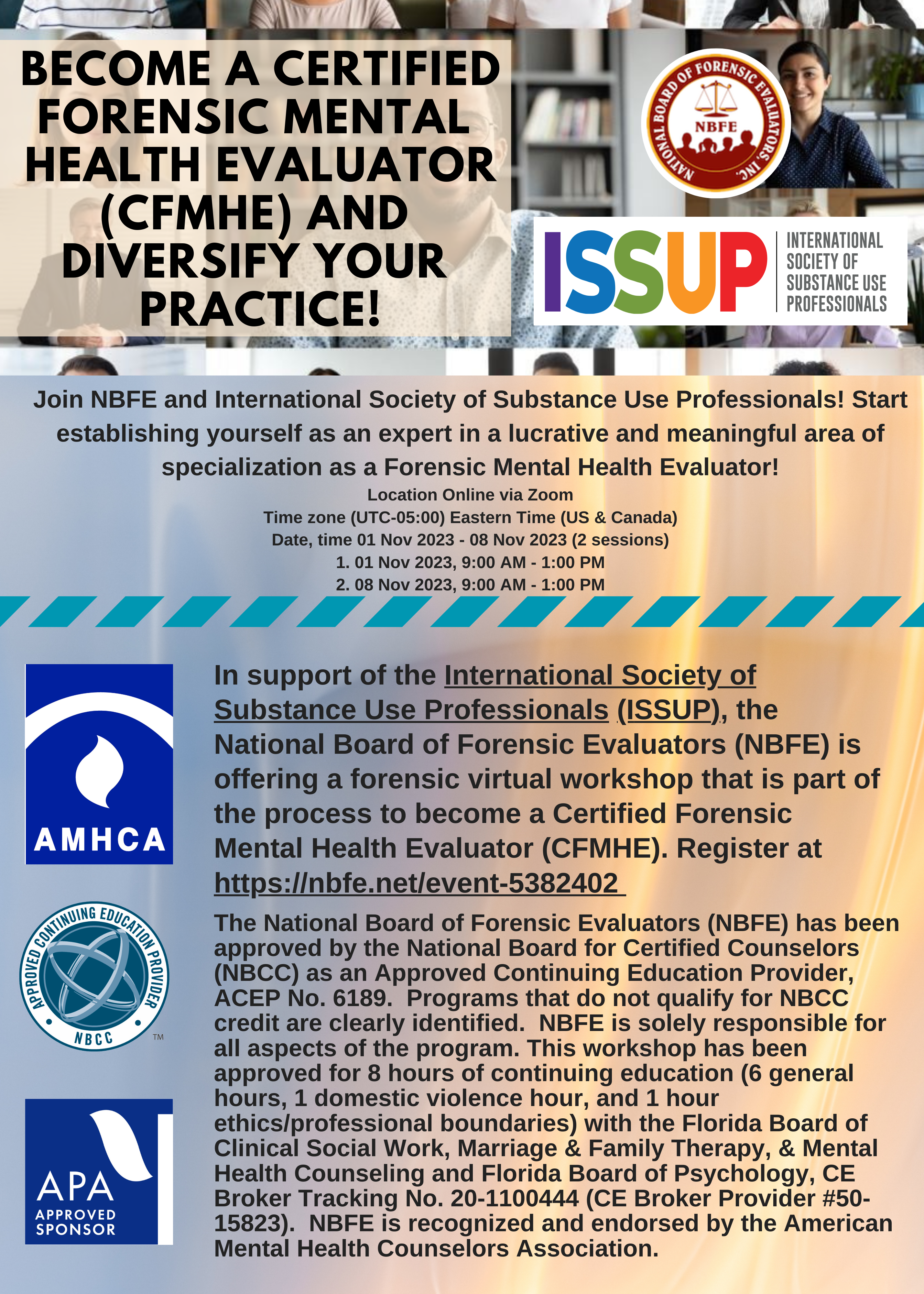 Learning Outcomes:
Define "forensic evaluation" and identify common standards for conducting them.  
Identify signs and symptoms of a substance use disorder, and ask questions relevant to determining whether clients have one or more substance use disorders.
Use four categories of sources of information to better inform conclusions and recommendations.
Presenter:
Aaron Norton, PhD, LMHC, LMFT, MAC, ICADC, CFMHE
Dr. Aaron Norton is a Licensed Mental Health Counselor and Licensed Marriage and Family Therapist with certifications in addictions, alcohol and drug counseling, rehabilitation counseling, clinical mental health counseling, trauma treatment, forensic mental health evaluation, forensic behavioral analysis, and forensic psychometry. He serves as Executive Director of the National Board of Forensic Evaluators, a national not-for-profit board officially endorsed by the American Mental Health Counselors Association that provides training, certification, and professional advocacy for licensed mental health professionals specializing in forensic mental health evaluation. He is an Assistant Professor of Instruction at the University of South Dept. of Mental Health Law & Policy. He serves as Southern Regional Director, Ethics Committee Liaison, and International Counseling Task Force Chair for the American Mental Health Counselors Association and Chair of the Government Relations Committee for the Florida Mental Health Counselors Association. He is the Consulting Editor for AMHCA's The Advocate Magazine.  He co-authored the Forensic Evaluation section of the "AMHCA Standards for the Practice of Clinical Mental Health Counseling," authored the proposal for AMHCA's Clinical Mental Health Specialist in Forensic Evaluation (CMHS-FE) credential, and served on the expert panel that created the standards and written exam for the Florida Certification Board's Certified Telehealth Practitioner (CTP) credential. He has 20 years of experience as a psychotherapist and clinical supervisor, was awarded Mental Health Counselor of the Year by the American Mental Health Counselors Association in 2016, Counselor Educator of the Year by the Florida Mental Health Counselors Association in 2016, Researcher of the Year by the Florida Mental Health Counselors Association in 2019, and he was awarded AMHCA's Public and Community Service Award in 2020.  An experienced writer, presenter, and trainer, he has been published in several academic journals and professional magazines in the counseling profession.
Webinars and online events delivered and hosted by the International Society of Substance Use Professionals (ISSUP) are provided for informational purposes only. They are educational in nature and do not constitute medical advice, diagnosis or treatment.