Santiago, Chile,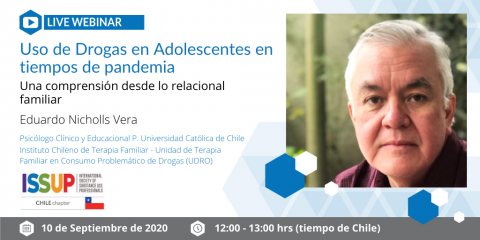 ISSUP Chile invites you to participate in a webinar on "Drug Use in Adolescents in Pandemic Times: An Understanding of the Relational Family" to be held on Thursday, September 10, 2020, from 12:00 p.m. to 1 p.m. (Chile time)
Description:
The relevance of having a family perspective on the treatment of drug use among young people will be discussed.
Understanding of problematic drug use among young people is developed from a relational perspective, including drug use as an adaptive response of the family system to contextual and/or historical factors in family development. There are some considerations with the problem in the current context of family stress that the containment/confinement process has occurred, and how this has affected the problem of substance use.
Presenter:
Eduardo Nicholls Vera
Clinical and Educational Psychologist P. Catholic University of Chile
Family and Couples Therapist Chilean Institute of Family Therapy
Chilean Institute of Family Therapy (IChTF) - Family Therapy Unit in The Use of Problematic Drugs (UDRO)
Psychotherapy specialist and clinical supervisor accredited by CONAP Chile
Mg Professor in Clinical Psychology - Systemia Psychotherapy Universidad Catalica del Norte, Chile
Member of ISSUP Chile