Santiago, Chile,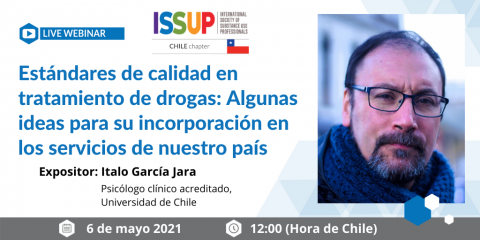 ISSUP Chile invites you to participate in a webinar on quality standards in drug treatment and how to incorporate them into treatment services in Chile.
The webinar will take place on Thursday, May 6, 2021 at 12:00 p.m. (Chile time)
May 6, 2021, 12:00 p.m. - 1:00 pm . (Chile time)
Disorders related to alcohol and other drugs have become, both in Chile and elsewhere in the world, a major public health problem.
In recent decades, various international agencies have developed different criteria and standards documents for drug treatment services, with a view to improving the coverage and quality of treatment of these health problems. This, in response to the overall priority agreed and described in the United Nations Sustainable Development Goals for 2020-2030, health target 3.5.
These international initiatives aim to promote and support policies, strategies and treatment interventions based on scientific evidence and human rights, to reduce the negative social and health consequences caused by alcohol and/or other drug use disorders.
Being able to incorporate these standards and criteria into treatment services for people with drug use disorders that are currently being implemented in our country could contribute to the following aspects:
• Improve the results of programs and services as they approach compliance with these standards.
• Assess the work of organizations, increasing the visibility of their work and strengthening the sustainability of programs.
• Contribute to resolving the uncertainty generated by investment in programs whose results are unknown.
• Reduce the effort to constantly develop and test new programs.
• Reduce the cost associated with allocating resources to programs and interventions that have proven ineffective.
Speaker:  Italo García Jara, Accredited Clinical Psychologist, University of Chile
• 20 years of professional experience in direct care of people with mental health issues, especially in the treatment of problematic use of alcohol and other drugs in the public sector
• Currently serves as UNODC Consultant, in the project "Situational Analysis on the Quality of Services for the Treatment of Drug Abuse Disorders and Quality Assurance Mechanisms in Latin America, with the participation of 11 countries in the region
• Led the coordination and implementation of COPOLAD's "Validation and Piloting of Quality Standards in Drug Treatment standards in Latin America", which involved 15 countries in the development of Quality Accreditation Systems for Alcohol and Drug Treatment Centers.