Rome, Italy,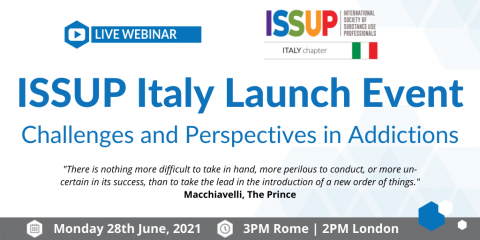 ISSUP Italy would like to invite you to attend their upcoming Launch Event. The Launch will centre on the theme 'Challenges and Perspectives in Addictions'.
Time: 3pm to 6:30pm Italy / 2pm - 5:30pm UK
The official language of the launch will be Italian. Simultaneous Italian / English translation will be available.
Greetings
Giorgio De Cristoforo, President Casa Rosetta
Liliana La Sala, Directorate General for Prevention, Office for Addiction Prevention, Doping and Mental Health, Ministry of Health
Livia Edegger, Deputy Director, ISSUP Global
Brian Morales, Branch Chief, Counternarcotics, Office of Global Programs and Policy, INL Bureau at U.S. Department of State
Thom Browne, Chief Executive Officer at the Colombo Plan Secretariat
Jeff Lee, Senior Consultant ISSUP
Kirsty Fitzpatrick, Coordinator ISSUP ISSUP
Italy: The First Steps
Pina Frazzica, Executive Director, ISSUP Italy
Gilberto Gerra, President, Steering Council, ISSUP Italy
Our Vision
Rachele Donini, Director Prevention
Massimo Barra, Director Outreaching care
Guido Faillace,  Director Scientific Communities
Giovanna Garofalo, Director Training
Fabbio Lugoboni, Director Hospital care, Vice President of Steering Council
Umberto Nizzoli, Director Specialist care
Lorenzo Somaini, Quantitative Research and Scientific evidence  
Luciano Squillaci, Director  Therapeutic Communities
Sarah Vecchio, Director, Toxicology
Lorenzo Zamboni, Director, Scientific communication
Evidence and Global Perspectives
Giovanna Campello: Global perspectives on the prevention and treatment of drug-related disorders
Marica Ferri: A European look at the main problems related to the use of illicit substances and an overview of interventions based on scientific evidence
Elisabetta Simeoni: The Department of Anti-Drug Policies: vision, objectives, programs
Pietro Canuzzi: Primary prevention strategies in behavioral addictions in the youth population
Massimo Clerici: Comorbidity between mental disorders and substance use in Italy: a cross fate or a missed integration
Icro Maremmani: Addiction medicine: towards its independent academic status
Highlights
Franca Beccaria: Young people and alcohol, new scenarios in Italy
Paolo Jarre: The gambling disorder: state of play and critical issues in Italy
Don Giulio Dellavite: Spirituality and addictions, in search of values
Moderators
Pina Frazzica, Rachele Donini, Fabio Lugoboni