Nairobi, Kenya,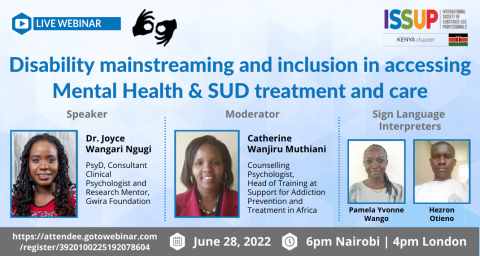 ISSUP Kenya presented a Webinar on disability mainstreaming and inclusion in accessing Mental Health and SUD treatment. This webinar delineates the access barriers that People with Disabilities (PWDs) face as a result of societal inequalities and discrimination in Mental Health and Substance Use Disorder treatment and care.
Time: 4PM UK Time / 6PM Kenya Time
Learning Outcomes:
The attendees will be able to delineate access barriers hindering Mental Health & SUD treatment for people with disabilities.
The learners will be able to describe disability mainstreaming and inclusion, inequality and discrimination as related to Mental Health & SUD treatment
Presenter:
Dr. Joyce Wangari Ngugi
PsyD, Consultant Clinical Psychologist and Research Mentor, Gwira Foundation is a Certified Addictions Counsellor with 16 years' experience. She has previously worked at SAPTA, Eden House and Asumbi Treatment Centre, and is currently in private practice. She earned a global award at the APA Convention in 2018, and is also a TED Talk laureate in 2020, see www.wangari.africa 
Moderator:
Catherine Wanjiru Muthiani
Counselling Psychologist 
ICAP III
Head of Training at Support for Addiction Prevention and Treatment in Africa (SAPTA)
This Webinar will have a sign language interpreter.

Webinars and online events delivered and hosted by the International Society of Substance Use Professionals (ISSUP) are provided for informational purposes only. They are educational in nature and do not constitute medical advice, diagnosis or treatment.