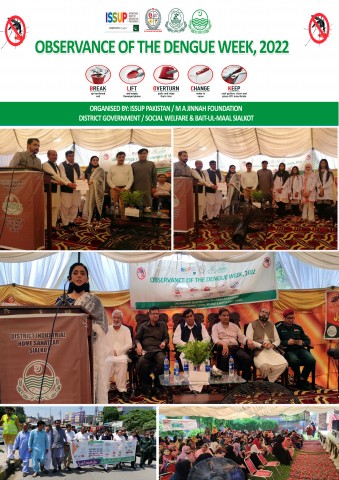 On August 27th, 2022 ISSUP Pakistan, Department of Social Welfare & Bait-Ul-Maal, Local Government and M A Jinnah Foundation (Regd), Sialkot organized an Anti-Dengue Seminar in Observance of Anti Dengue Week at Sanat-Zaar Social Welfare Complex, Sialkot.
The chief guest of this event was the Additional Deputy Commissioner General Mr. Ahmad Nawaz, and different officials as speaker guests from various Departments were also invited including Chairman District Baitul Mal Sialkot Dr. Ziaul Hasan, CEO District Health Authority Dr. Afzal Bhalli, District Health Officer Dr. Waseem Mirza, Deputy Director Social Welfare Mr. Sharif Ghaman, Social Welfare Officers Adnan Malik, Adnan Rathore, Manager Sanat Zaar/Vocational Training Centre Mr. Jameel Bajwa, Chairman, President M A Jinnah Foundation Mr. Muhammad Aslam, Sheikh Javed Seethi, Professor Rubel, Law Officer, Mr. Imran Kisana, Rescue Officer Mr. Irfan Yaqoob, Mr. Mukhtiar Ahmed, Mr. Naseer Ghaman and entomologists Mr. Hafeez Ahmed. Besides representatives of various social organizations, students of Sanat zaar/Vocational Training Center and The interns of the Department of Sociology of Government Collage for Women University, Government Murray Post Graduate Collage Department of Applied Psychology also participated fully and an information Desk was also established on the entrance of the venue and distributed Anti Dengue Awareness pamphlets and flyers among participants.  
Ms. Saima Asghar welcomed all honorable guests and participants and briefly shared the introduction of ISSUP Global & ISSUP Pakistan and its contribution to Substance Use Treatment, Rehabilitation, and Drug Demand Reduction which was highly appreciated by guests and participants also shared the agenda of the Seminar.
Additional Deputy Commissioner General Mr. Ahmad Nawaz said that Dengue Week was celebrated with great enthusiasm, but it is important that what we have learned from anti-dengue activities should be continued in practice. According to Islam, cleanliness is half faith. This is our moral and moral duty.
Chief Executive Officer Health Dr. Afzal Bhalli and District Office Health Officer Dr. Waseem Mirza said that the Health department is deeply grateful to all the departments who have fulfilled their social and legal responsibilities for the prevention of dengue.
Deputy Director of Social Welfare Mr. Sharif. Ghaman said that all officers and departments of the Social Welfare Department in Sialkot actively participated in the anti-dengue campaign.
Registered NGOs realized their responsibility and participated in the fight against dengue by printing 2000 penaflexes and thousands of handbills to raise awareness and awareness about dengue. He said that the real campaign to prevent dengue has started today. Caution has to be taken. The only solution to this deadly disease lies in caution.
Mr. Muhammad Aslam while speaking said that dengue is a community disease which is spread by mosquito bites, the community must play its main role in order to completely control this disease, eliminate the potential breeding grounds of mosquitoes, clean the environment. And this disease can be controlled by keeping it dry. He said that he urged the students to spread the message of prevention from dengue to every home and village and not to allow water to accumulate in their homes and surroundings. AC in houses, kitchens, roofs, gardens, junkyards, workshops, tire shops, service stations, industries, lorry depots, railway stations, educational institutions, pots, swimming pools, and all such places where water has accumulated for more than two days can get an opportunity to breed, therefore immediate drainage of water should be ensured and larval siding should be done by the relevant institutions in places such as water bodies, ponds and ponds and continuous monitoring of redingi hotspots.
Ms. Saima Asghar Director of ISSUP Pakistan also received an Appreciation letter from Additional Deputy Commissioner General Mr. Ahmad Nawaz for her untired efforts and contribution as part of ISSUP Pakistan.