Lomé, Togo,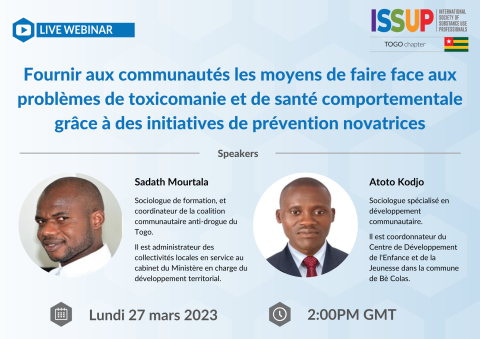 ISSUP Togo would like to invite you to their Webinar on Empowering Communities to Face Substance Use and Behavioural Health Problems Through Innovatory Prevention Initiatives.
Time: 2PM Togo | 2PM UK
ISSUP Togo promotes community based prevention efforts. This webinar aims at sharing some best practices and innovative initiatives that have been implementing in the communities in Togo. This webinar will be focusing in the comprehensive approach that is been adopted by the Togo government in the Country and how the communities champions put together the communities members' efforts to build  safe and healthy communities.
Learning Outcomes:
Improve the understanding of a comprehensive community based prevention approach that has been implementing in Togo
Share case studies of  communities that have been implementing successfully the approach in Togo
Show the commitment and the passion of the community members who carry the vision and make the change.
Presenters:
Mr. Sadath MOURTALA is Sociologist by training, and an coordinator of the Togo  community coalition anti drug. He is administrator of local authorities in service in the cabinet of the Ministry  in charge of territorial development. He is experienced in community substance use prevention 
Mr ATOTO Kodjo, sociologist specialized in community development, project Manager, he is Coordinator at the Youth and Childhood Development Center  in a Community called  Bè  Colas
Moderator:
Dr TCHONDA Masamaésso, Psychologist and School Prevention Project Manager

Webinars and online events delivered and hosted by the International Society of Substance Use Professionals (ISSUP) are provided for informational purposes only. They are educational in nature and do not constitute medical advice, diagnosis or treatment.