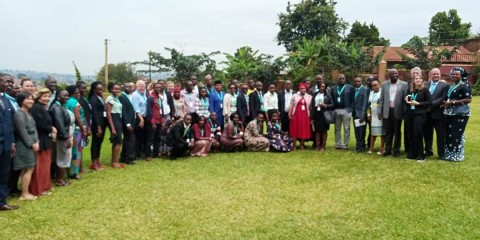 The East African Regional Forum on Prevention and Treatment of Drugs and Alcohol
that was organized by the World Federation against Drugs in collaboration with Uganda Youth Development Link (UYDEL), International Federation of Non-Governmental Organisations (IFNGO), Slum Child Foundation, Students' Campaign Against Drugs (SCAD), People Against Drug Dependence and Ignorance (PADDI), Drug Free American Foundation Inc and the Carlton Hall consulting LLC and held from Tuesday 4th -6th February 2020. The workshop was hosted at Nyumbani Hotel in Kampala Uganda.
We appreciate the invited speakers who came to Kampala-Uganda from more than 5 countries, as well as the nearly 60 people who participated in the intensive three days of discussions.
The representative from World Federation Against Drugs, informed the participants that WFAD is a multilateral community of non-governmental organisations and individuals. He stated that the work of WFAD is built on the principles of universal fellowship and basic human and democratic rights. WFAD has around 250 member organizations over the world, in all continents. Ms. Regina Mattson added that WFAD's partners are in the field of advocacy, prevention, care, harm reduction as part of a chain, treatment and recovery with the joint aim to work towards a drug-free world.
Mr. Esbjorn who joined the meeting via a skype call thanked the participants for attending the forum and informed them that they should use the forum to share expertise, discuss success stories they have, to discuss failures and how to change the world because NGOs are needed in society. He further informed the members that in a couple week Commission of narcotic and drugs will meet in Vienna and will be attended by ambassadors, ministries and other actors to discuss issues especially on legislation. He called upon the members to stand united, those in prevention, treatment, rehabilitation and recovery not to forget the mission. Always continue how to engage with governments because they are responsible for the people
Esbjorn added that apart from the United Nation Conventions on Narcotic drugs and psychotropic substances, the work of WFAD is guided by the Convention on the Rights of the Child.
Participants were informed that according to the new 10 years strategic plan WFAD will include two new subjects:
Women's specific situation
Children and Convention on Rights of a Child (CRC)
Mr. Rogers Kasirye, the Executive Director Uganda Youth Development Link emphasized the importance of engagement with other stake holders in field of fighting drugs, he called upon CSOs to utilize the various platforms available and he stated that governments have now realized the importance of NGO work in improving the livelihood of the community especially in prevention because they believe treatment is expensive and given that 80% of the African population is young, prevention strategies are the best.
Dr. David Kalema made a presentation about the experiences of the East Africa Alcohol Policy alliance
(EAAPA). In his speech, he noted that the East African counties are among the heaviest alcohol consumers on the African continent. The current alcohol crisis is not unique to Uganda as the entire Sub Saharan Africa battles alcohol harm. He informed participants that there is a general consensus that alcohol misuse is more prevalent nowadays due to a combination of factors such as the type of alcohol, altered production and consumption patterns, wider availability, and changing cultural practices and social control mechanisms. The consumption of alcohol in pre-colonial times was characterized by low alcohol by volume beer and wines (2-4%), which were fermented from food products.
Also, alcohol was produced in particular seasons and in many cases only used for traditional rituals and
Reserved for respected elders. Drinking occurred in the homesteads during weekends and holidays and waslargely ceremonial, emphasizing the ritual rather than intoxication. The drinking terrain drastically changed with the commercialization of alcohol and to date we are witnesses to unregulated production and unethical promotions to lure among others; the young generation into alcohol use.
The difference between Uganda and other countries in the same region lies in policy response. Our neighbors such as Kenya, Zambia, Lesotho, South Africa have initiated control measures in terms of legislating use of alcohol. This calls for urgent attention on part of Uganda to follow suit and strongly come out to institute similar initiatives. It is against this background that UAPA has organised this stake holders' forum to come up with a united front to this challenge. UAPA is a network organisation with a mission "To provide a platform for individuals and civil society organizations to contribute to policy and processes on regulation of alcohol production, distribution and consumption to prevent alcohol related harm among the Uganda population". UAPA's membership is open to members of the civil society who are interested in alcohol prevention and control; provided they are not connected to the alcohol industry. UAPA is a member of a bigger global move; Global and Alcohol Policy Alliance (GAPA) and East African Alcohol Policy Alliance (EAPA) and has for the last couple of years been an active participant in the activities of the above associations where we have learnt the important role played by policy in mitigating alcohol problems. We have learnt that Sub-Saharan African is the new battle ground for alcohol producing companies and countries like Uganda with a combination of a growing economy coupled with a young population and high consumption levels presents strategic location and economic interests for the industry. Legislation is the cheapest and most effective way of controlling alcohol harm. To achieve her mission EAPA undertakes several advocacy, awareness and membership capacity building activities.
Mr. Eze Eluchie shared about the importance of harmonizing regional groupings especially for East Africa which can be used lobby for better policies within the region giving reference to their West African network for CSO on substance abuse. He stressed that the End goal of the Regional should be to impact on policy within the East African Community. However, he advised that the network needs to be driven by the goal not self-greed. He advised that their need to be consistence in doing business in order not to set adrift from the gaol and the network should be guided by the vision of WFAD.
He also shared that the members can come up and sign on a joint outcome document to be presented to the policy makers within the region such that efficacy of the network is felt. The network can also be used as platform to build capacity of the different CSO's with the region and also information sharing among the neighbor such that what is done in one country and is very good can be replicated as a best practice in another country.
Overall the Forum was a success and a lot of recommendations were made to address the world drug problem.
List of participants
     No     Name                                               Organisation                                          Country
 Augusto Nogueira                            IFNGO                                                     Malaysia
Regina Mattison                                WFAD                                                      Sweden
Juliet Namukasa                                 International AidServices Uganda          Uganda
Gladness Munud                                 CRC                                                        Tanzania
Zainabu Makombe                              HCT                                                        Tanzania
Hellen Alice Nondi                             FOHTC                                                   Kenya
Eliphas Were                                       KEYNET                                                Kenya
Okello Chrispine                                 Child Space Organisation Kenya            Kenya
Jane Mwangi                                       Willing Way Recovery Center                Kenya
Nalumansi Sumayiya                          Kawempe Youth Development               Uganda
Ngozi Nwankwo Daniel                      Nunsaulo Foundation                              Nigeria
Anguria Michael                                  Saf-Teso                                                  Uganda
Lydia Agemo Manu                             Willing Foundation Ghana                      Ghana
Kikome Ruth                                        Recovery Solutions                                 Uganda
Water Auma                                        SCAD                                                      Kenya
Masitula Kisakye                                UGGA                                                      Uganda
Wanyana Mary Winty                         UNACOH                                                Uganda
Tumwikiriza Apollo                           Trust Future Uganda                                 Uganda
Mugume Eliab                                    Brotherhood Restoration Uganda              Uganda
Siboniyo Elias                                    Community Out Reach Burundi                Burundi
Micheal Marwa                                  C-Sema                                                      Tanzania
Carlton Hall                                        CHC                                                          USA
George Ochieng                                 Slum Child Foundation                             Kenya
Phaedon Kaloteraus                           WFTC                                                       Greece
Nabulya Anna                                     UYDEL                                                    Uganda
Billy Batware                                      UNODC                                                   Austria
Mpyangu Denis                              Swanyi Nansana CollisionAgainst Drugs    Uganda
Sempiira Edward                            Life Back Foundation Uganda                     Uganda
Nassanga Margaret                         UAPA                                                           Uganda
Carol Mulyowa                               Hope And Beyond Uganda                          Uganda
Catherine Boyane                            Nakuru Drop In Center Cbo                        Kenya
Mildred Auma                                  Kisimu Disab S H Group                            Kenya
Rontaear Tad                                    Conter Pointer                                             Usa
Sushma Taylor                                 Wftc                                                             Usa
Nakijoba Barbara                             UYDEL                                                       Uganda
Winnie Kimera                                Somero Uganda                                          Uganda
Bbale Drake Thamsone                   CAYEL                                                      Uganda
Nanziri Immaculate                         UYDEL                                                      Uganda
Ssewali Mark                                   UYDEL                                                      Uganda
Brian Mugo                                      Csa YAADSA CBO                                  Kenya
Sammy Gachary                               Daac International                                     Kenya
Mutawe Rogers                                UYDEL                                                     Uganda
Jumba Bem                                       Kfm                                                           Uganda
Muyingo Joseph                                Delta Tv                                                    Uganda
Nicholas Kajoba                               Nzirision                                                    Uganda
Musoke Twaha                                 EYDI                                                         Uganda
Katongole Isa                                    Nansana Childrens Center                        Uganda
Muhammad Wammala                     Salt Media                                                 Uganda
Gibson Johnson                                UYDEL                                                     Sweden
Elin Awidsson                                  UYDEL                                                     Sweden
Sarafehn Syler                                  UYDEL                                                     Sweden
Josephine Nakibuuka                       Fight Drug Abuse                                      Uganda
Felicia Nyngayen                             UYDEL                                                      Sweden
Namubiru Grace                               Record Tv                                                  Uganda
Assimwe Dorcus                              Nina Olugero Foundation Uganda             Uganda
Ddumba Lawrence                           Nbs Tv                                                       Uganda
Mayanja Joseph                                Delta Tv                                                     Uganda
Paul Mugamba                                  Delta Tv                                                     Uganda
Saidat Namusoke                              Ubc Tv                                                        Uganda
Lydia Kyomukama                           Ubc Tv                                                        Uganda
Sarah Maziwe                                   New Vision                                                 Uganda
Ziraba Muzale Davidi                      Capital Fm                                                   Uganda
Batte Andrew                                   UYDEL                                                       Uganda
Eze Elucluie                                     PADDI                                                        Nigeria
Richard Shilamba                             Cheso                                                          Tanzania
Paul Kogi Mburu                              Sober life Society                                       Kenya
Lubega Andrew                                UYDEL                                                      Uganda
Kasirye Rogers                                 UYDEL                                                      Uganda