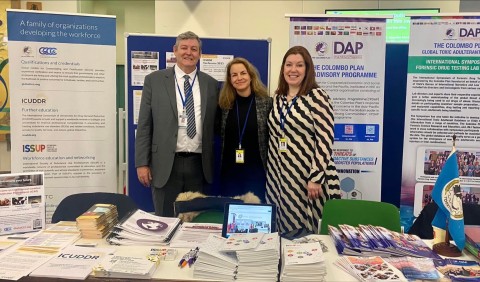 ISSUP spent the week at the 66th Session of the Commission on Narcotic Drugs (CND), that took place in person at the UN, Vienna and online from 13th – 17th March 2023.
We were delighted to meet many existing and potential ISSUP members at our exhibition stand, which we shared with Colombo Plan – DAP, Colombo Plan – GCCC, ICUDDR and ITTC. Visitors were interested in our 5 organisations' shared mission to professionalise and support the workforce.
We presented at two side events and received a positive reception to ISSUP's representation of the workforce and civil society community within the fields of deflection and humanitarian approaches to universal health coverage. The side events were extensive this year with many interesting presentations and opportunities for learning.
As always the event provided excellent opportunities to meet and connect. We thank everyone who took time to catch up and explore potential for collaboration, our National Chapters ISSUP Greece, ISSUP Pakistan, ISSUP Uganda; international organisations African Union, Colombo Plan, Council of Europe, EMCDDA, UNODC, WHO, and civil society CADCA, DFAF, ICUDDR, ICQ, IRFC, NIDA, PTACC UK and Rome Consensus 2.0.
It was a great pleasure to meet ONDCP Director Dr. Rahul Gupta and the Assistant Secretary of INL Todd Robinson at the event.