Vienna,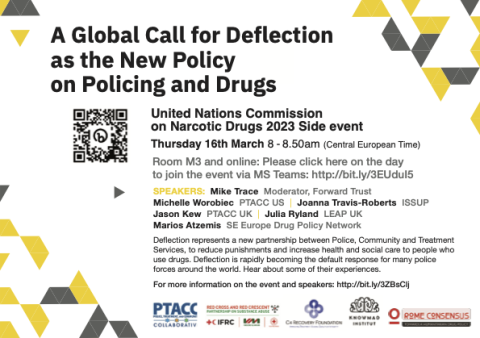 Thursday 16th March 8.00 - 8.50am (GMT +1 - Vienna)
Room M3 and online: http://bit.ly/3EUduI5 
Deflection represents a new partnership between Police, Community and Treatment Services, to reduce punishments and increase health and social care to people who use drugs. Deflection is rapidly becoming the default response for many police forces around the world. Hear about some of their experiences.
This event will take place at the CND66 as an online and in person side event. 
As a result of this session, participants will be able to 1) define and describe the rapidly emerging field of deflection, 2) understand the rationale behind deflection as an upstream and preventative strategy that leverages police contacts to get at pre-addiction AKA early drug use and addiction, earlier than before possible, 3) state why the rapidly growing field of deflection is uniquely poised to become a new global policy on policing and drugs called "Deflect Early. Deflect Often."
Speakers:
Mike Trace – Moderator
Michelle Worobiec – PTACC US
Joanna Travis-Roberts – ISSUP
Jason Kew – PTACC UK
Julia Ryland – LEAP UK
Marios Atzemis – South East Europe Network
Attachments