Dhakar, Bangladesh,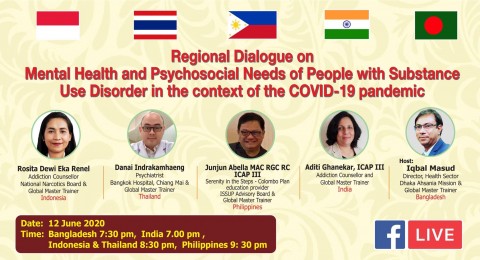 We are going to organize 2nd Regional Facebook Live Program on 12 June 2020 at 7.30 PM, Bangladesh, 7.00 PM India, 8:30 PM Thailand and Indonesia, 9:30 PM Philippines. The topic of the program is Regional Dialogue on Mental Health and Psychosocial Needs of People with Substance Use Disorder in the context of the COVID-19 pandemic. The speakers will be Danai Indrakamhaeng
Psychiatrist, Bangkok Hospital, Chiang Mai, Thailand, Junjun Abella MAC RGC RC ICAP III
Serenity in the Steps - Colombo Plan education provider
ISSUP Advisory Board &
Global Master Trainer, Philippine, Aditi Ghanekar
Addiction Counsellor & Global Master Trainer, 
Chennai, India, Rosita Dewi Eka Renel
Addiction Counsellor - National Narcotics Board of  Republic of Indonesia and Iqbal Masud, Bangladesh will moderate the program. 
The live program will be on aired from facebook page- https://www.facebook.com/amic.dam. Please connect  with the program and share your valuable comments and questions.