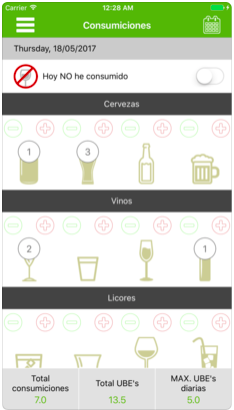 Sideal is a self-help app available in Spanish for people experiencing alcohol dependance. The app offers advice on reducing consumption and abstinence.
The app can be used to set and track goals that someone has set for themselves or one which has been developed with a clinician. If someone chooses to register through the app and begin to track their progress with the help of a professional then data can be synchronised and made available to the professional through a website. Consumption can also be tracked through the app with information being displayed in helpful and easy to read graphs. 
The mobile application is available through the Apple store which would allow monitoring and tracking using an iPhone or any other Apple device such as a smartwatch.