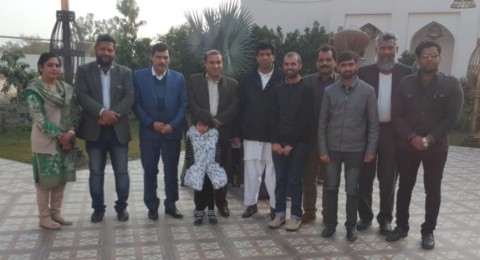 Mr. Bashir Ahmad, newly elected President of ISSUP Pakistan Chapter, Mr. Sana Ullah Rathore, newly elected Director of ISSUP Pakistan and Ms. Saima Asghar newly elected Director of ISSUP Pakistan visited Sargodha City on 23rd January, 2019. Mr. Jawad warmely welcomed the president and directors of ISSUP Pakistan in Sargodha. During their visit a meeting of ISSUP members Sargodha was held which was chaired by Mr. Bashir Ahmad Naz, Mr. Sana Ullah Rathore, Ms. Saima Asghar, Mr. Jawad, Mr. Rafi Khawar, Mr. Obaid, Muhammad Qasim, Musawar Ali, Mr. Asim and other members.
First of all, the members congratulated the newly elected president and board members. It was discussed that there is a large number of ISSUP members in Sargodha City. During the meeting Mr. Musawar, Mr. Qasam and Mr. Asim suggested that ISSUP Pakistan plan to conduct UTC training for young professionals. The president and directors agreed with the suggestion for ISSUP Pakistan to conduct training in collaboration with Mian Afzal Trust Hospital (MATH). It was also discussed that ISSUP Pakistan Chapter would facilitate professionals for the upcoming ICAP examination and also conduct a refresher course in collaboration with MATH (Education provider GCCE CP). This will benefit addiction professionals who want to be certified. The refresher course would be conducted by national trainers.
Mr. Jawad suggested that ISSUP Pakistan issue a journal, so that different substance use related research articles would be published in the journal and people benefit from the research. He has also taken on the responsibility for the collection of information and procedure for approval of the journal from the higher education commission. Mr. Sana Ullah Rathore said that ISSUP Pakistan and MATH would facilitate ISSUP members for appearing in ICAP examination in Pakistan. He also motivated the professionals to become part of ISSUP. In the end, newly elected president Mr. Bashir Ahmad Naz thanked the members especially Mr. Jawad and Mr. Rafi Khawar for their support and said that our board would try our best to promote professionalism and evidence-based practices.