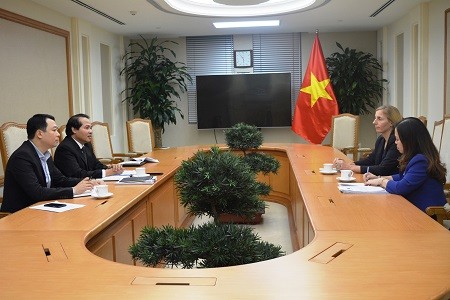 Currently, relevant ministries and agencies in Vietnam are studying, supplementing and amending the Law on Drug Prevention and Control to meet the current situation and practical requirements, including the section on drug prevention and treatment. The support of the United Nations Office on Drugs and Crime (UNODC) in the development of this component is essential and a very timely workshop for policy makers on the nature, prevention and treatment of drug use disorders was held from 4-6 November 2019 in Hanoi, Viet Nam.
On the afternoon of November 5, Mr. Doan Huu Bay, Deputy Director of Department of Education and Literature (Government Office), Member of the Secretary of National Committee for AIDS, Drugs and Prostitution Prevention and Control had a meeting with Ms. Anja Busse (UNODC, Prevention Treatment and Rehabilitation Section) and Ms. Ngo Kieu Lan (UNODC Country Office Viet Nam).
Mr. Doan Huu Bay expressed appreciation for UNODC's work in Viet Nam including for capacity building on the international standards on treatment of drug use disorders; support for the establishment of effective models of prevention and  treatment of drug use and the workshop for policy makers on "Nature, prevention and treatment of substance use disorders". Mr. Bay and Mr. Duc then discussed concrete options for future collaboration with UNODC, including assistance for stimulant use disorder treatment and prevention.