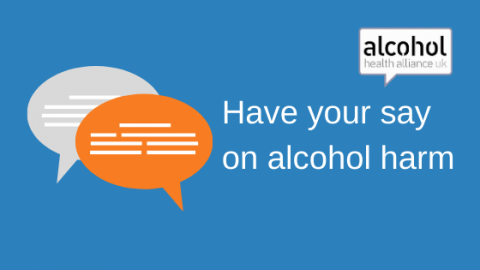 The Alcohol Health Alliance UK (AHA) is supporting a Commission on Alcohol Harm, consisting of a panel of varied experts.
The Commission on Alcohol Harm has been established to examine the current evidence on alcohol harm, recent trends in alcohol harm and the changes needed to reduce the harm caused by alcohol. The Commission will also examine the need for a new comprehensive UK-wide alcohol strategy. 
AHA are keen to have input from academic researchers, charities, healthcare professionals, professional bodies, commissioners and those affected by alcohol harm in their personal, professional or family life.
The Commission will hold three oral evidence sessions in early 2020 and has launched a call for written evidence, with submissions welcomed before the deadline of 12.00 noon on 17 February 2020.
The Commission on Alcohol Harm welcomes written submissions addressing one or more of the following questions:
What evidence has emerged since 2012 on alcohol's impact on:

Physical health?
Mental health?

What impact does alcohol have on the NHS and other public services?
What challenges do alcohol treatment services currently face in supporting people impacted by alcohol harm?
What recent evidence is there of impacts caused by alcohol consumption on family life, relationships and sexual behaviour?
What data exists to show alcohol's current impact on different demographic groups, including age, sex and social class?
What impact does alcohol have on economic productivity and is there evidence of this changing since 2012?
What current evidence is there of links between alcohol and violent behaviour and other crime?
What recent evidence is there of links between alcohol and other addictive behaviours (such as smoking, drug use and gambling)?
What effect does the current approach to alcohol marketing and licensing have on alcohol harm?
What policy changes would help to reduce the level of harm caused by alcohol? Are there policy responses from other governments (including within the UK) that have been successful in reducing harms caused by alcohol that could be implemented in the UK