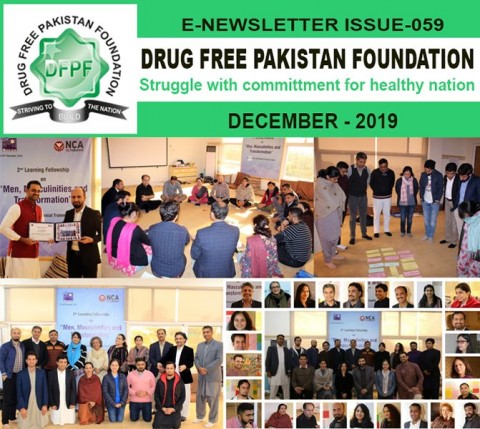 Monthly Newsletter December - 2019
During this month, Drug Free Pakistan Foundation (DFPF) was invited to speak by several organizations and universities on substance use prevention and especially the role of youth in preventing substance use. During this month Mr. Ahmad Shah (Youth Program Manager-DFPF) was also selected from the pool of hundreds of professionals to take part in an extensive fellowship program by ROZAN in Islamabad, Pakistan. Apart from these activities Team DFPF had meeting with several national and international organization on discussion about possible future collaborations and upcoming event and activities.
Fellowship Program - Islamabad
Mr. Ahmad Shah was selected among the pool of hundreds of social development professionals to take part in an extensive fellowship program by ROZAN in Islamabad, Pakistan. The theme of this fellowship was Man, Masculine and Transformation. Participants were selected from all over Pakistan and belongs to different organizations and fields like academics, media and social sector were part of this fellowship program. This fellowship was conducted by executive leadership of ROZAN and also from various national and international professionals from different fields. Various issues and ideas were discussed during this fellowship regarding the masculinities and its links to self-awareness, conflicts, culture, gender based violence etc.
3rd Young Leadership Program - Karachi
On 28th Dec, 2019 DFPF was invited to speak with participant of 3rd Young Leadership Program at National Incubation Centre, NED University Karachi. This leadership program was organized by a group of young individuals with an aim to train young generation on different social skills and career guidance programs. Mr. Ahmad Shah speak with participants on Substance use prevention and role of youth in reducing substance use and creating a healthy impact on individuals and society. He also discussed on types of drugs and why young people are more vulnerable towards this issue. He talked about the importance of knowledge and understandings on social and life skills education that help the young generation in realizing the true way of living a healthy life. He showed videos on real life story and how the use of drug by an individual can make an impact on whole family structure.
Session on Substance Use Prevention at Iqra University - Karachi
On 28th Dec, 2019 faculty of Iqra University EDC Campus invited DFPF to speak with student of media sciences on substance use prevention. After an introduction of organization and also from students Mr. Ahmad Shah shared the importance of understanding the fact the substance use prevention should be taken as disease and it's the youth who needs to come forward and help the organizations in educating the society about this disease. He also shared risk and protective factors which are very important to understand and also discussed about myths and misconception that majority people had kept in their mind and are misleading many others. He shared how youth needs to carry forward with the protective that can help them in achieving their goals and ambitions and can also empower them so that they can help other individuals and society.
Meetings with National & International Organizations
During this month DFPF also holds meeting with several national and international organizations, youth based networks and donor agencies to discuss about upcoming youth, schools and other substance use prevention initiatives. These meetings were conducted to share the mutual consents of both organizations and how we can work towards the betterment of community and society.