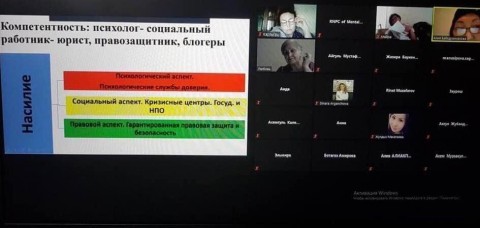 In today's conditions of the COVID-19 pandemic and necessary quarantine measures taken by the Government of Kazakhstan psychosocial support and assistance, as well as self-education of stress management, supportive communication with each other and expert advice often become a necessity.  In this regard the Republican Scientific-practical Centre on Mental Health – a main partner of the UNODC global project GLOJ71 – "Treating drug dependence and its health consequences: Treatnet II" – initiated the establishment of the website "Psychological support and assistance during COVID-19" (https://covid-19.mentalcenter.kz/ru/).
The site started operating on April 4, 2020. It was launched by the Republican Scientific-practical Center on Mental Health with the support of UNICEF, and more than 70 professionals in the field of mental health, psychology and psychotherapy from various universities, state organizations and private practitioners with all over the country.
 Following are the intermediate results of the site as of May 10, 2020:
More than 38,000 sessions - for more than 28,000 users.
Users from 67 countries visited the site, the greatest interest was from USA, Russia, Uzbekistan, Germany and China.
During this period, online psychological and psychotherapeutic assistance were provided 208 times.
44 written requests for mental health assistance processed.
As part of this site, support to the work of an educational psychologist is being provided since May 4, 2020 and has proven to be very effective. Given the high demand, this specific initiative was organized by the Republican Scientific-practical Center on Mental Health in collaboration with UNICEF and support of the Ministry of Education and Science of the Republic of Kazakhstan.
On-line consultations were provided to 22 educational psychologists by supervisors in the analysis of complex cases that arose during their professional activities.
As the part of the site's work, the capacity building of psychologists and psychotherapists has begun; a total 29 webinars were held as of May 10, 2020, with 4,433 participants attending.
A YouTube – channel was created where the webinars are posted, the channel had 8862 hits as of May 10, 2020.