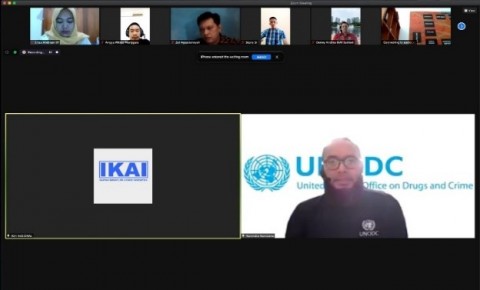 UNODC Indonesia together with the Indonesian Association of Addiction Counselors (IKAI) organised a remote training on Universal Treatment Curriculum (UTC) Basic Counseling for Addiction Professionals in September 2020. Since 2019, UNODC and IKAI have already an agreement on the training implementation using evidence-based materials to strengthen the capacities of the drug treatment workforce especially for those who already registered as IKAI's member.
After days of preparation, finally the first remote training on UTC Basic Counseling for Addiction Professionals was successfully organised from 12 to 20 June 2020. This training was attended by 37 participants from various backgrounds such as, counselors, nurses and social workers both from Government and Non-Government Rehabilitation services.
Even though challenges were faced with the remote-training format, especially when it comes to the aspects of interactivity and skills-based learning, participants were able to enhance their knowledge on the fundamental skills on SUD treatment with an average knowledge increase from 7.37 to 10.32 points (an increase of 20%).
Overall, this UTC Basic Counseling for Addiction Professionals training provided participants with the foundational knowledge and skills on SUD treatment. This will enable any drug dependence treatment and care organization to acquire evidence-based practices and current knowledge in the field SUD treatment whilst adhering to global drug dependence treatment and care standards.