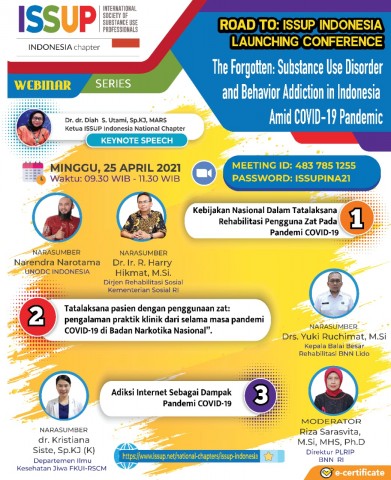 In line with ISSUP's global network in the field of prevention and treatment and its importance of promoting evidence based and ethical substance use prevention and treatment locally, Indonesia planned to officially establish its national ISSUP chapter. This initiative was supported by a group of representatives from the government, civil society, academia and international organisations in Indonesia who are committed to the establishment and its process until the ISSUP Indonesia's chapter is officially launched. A series of webinars were designed to be part of the pre-launch ceremony prior to the official launch in November 2021.
A national webinar on Substance Use Disorders and Behaviour Addiction in Indonesia Amid COVID-19 Pandemic was held on April 25th, 2021, as the first from the series of webinar. The webinar focused on the issues around the COVID-19 pandemic and substance use disorders which was presented by four speakers on four different topics. Narendra Narotama from the UNODC Indonesia country office provided an overview of the process in developing the guideline for drug treatment during COVID-19 pandemic. Harry Hikmat, PhD., Director General of Social Rehabilitation, Ministry of Social Affairs of the Republic of Indonesia presented the policy on drug treatment management during COVID-19 pandemic. Yuki Ruchimat, Head of Lido-Drug Treatment Centre of the National Narcotics Board of the Republic of Indonesia presented the clinical practice experiences in providing the services at Lido- Drug Treatment Centre during COVID-19 pandemic, and dr. Kristiana Siste, PhD from Department of Psychiatric of University of Indonesia presented on internet addiction as one of the impacts from COVID-19 pandemic. This webinar was moderated by Riza Sarasvita, PhD, the Director of Strengthening Government-Based Rehabilitation, National Narcotics Board of the Republic of Indonesia and opened by the keynote speaker dr. Diah Setia Utami, PhD, the ad interim Chief of Indonesia's ISSUP.
With this series of webinar, ISSUP will be promoted widely at national level, and with the enrolment of new members from Indonesia, the importance of evidence based, safe and ethical services for people with drug use disorders in supporting resilient communities becomes more visible.