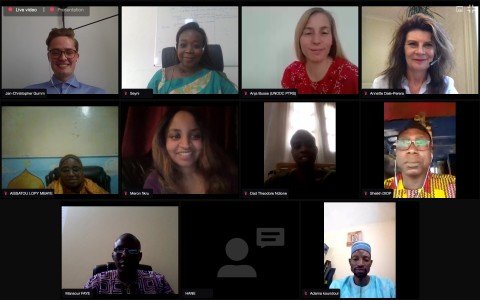 The UNODC Regional Office for West and Central Africa (ROSEN) and the Prevention, Treatment and Rehabilitation Section in Vienna (PTRS), organized from June 14th to June 18th, an online Quality Assurance training, benefitting 16 drug treatment and care services providers in Senegal.
In 2016, the United Nations Office on Drugs and Crime and the World Health Organization launched the 'International Standards of Treatment of Drug Use Disorders" at the United Nations Special Assembly Session on Drugs (UNGASS) in New York, together with the approval of resolution 59/4 by the Commission of Narcotics Drugs.
CND resolution 59/4 encouraged all Member States to consider expanding the coverage and improving the quality of drug treatment systems, interventions and policies based on scientific evidence, based on the International Standards for the Treatment of Drug Use Disorders' WHO/UNODC 2016.
Guided by 1 international consultants, using the online platform KUDO, participants from Senegal, were mainly established experts in drug use disorders. They were from a range of different professional disciplines and roles, including psychiatrists with specialism in addiction or addiction experts, service managers (in-patient and community-based services); civil society organisations, staff from the Ministry of Health; nurses and a family therapist.
Three main recommendations came as a result of the Quality Assurance Training:
Recommendation 1: A brief piece of work using the UNODC System QA Toolkit could be undertaken with key stakeholders in Senegal to compare current provision with 'the Standards (WHO/UNODC)' and enable detailed planning and a road map to consolidate this process.
Recommendation 2: In the process of continuing to build the capacity of the drug use disorder treatment system in Senegal, projects could be undertaken that would enable a future Quality Assurance mechanism for drug use disorder treatment services and interventions.
Recommendation 3: Senegal may wish to implement a quality assurance mechanism for specialised substance use disorder services in time, but it may be advisable to focus on building quality enablers and the system infrastructure first. This could include having a core set of quality standards.
Participants were supportive of implementing quality assurance but kept returning to the topic of the government needing to finish the work that had been stated to capacity-build the drug use disorder treatment system.