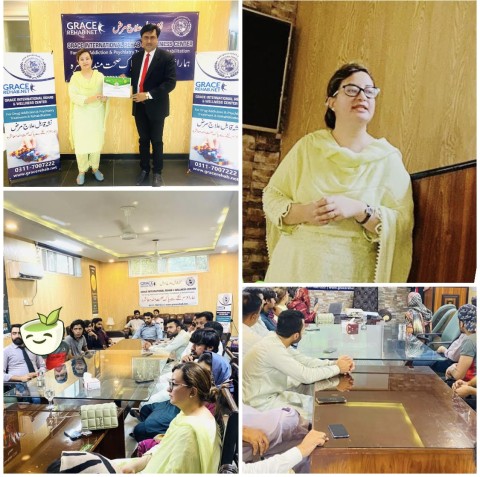 On September 30, 2022, during International Recovery Month, the Grace International Rehabilitation Center for Psychiatry and Addiction Lahore organized a one-day workshop for professionals to enhance skills in Cognitive Behavioral Therapy for Obsessive Compulsive Disorder and Delusions. The guest, Muhammad Aslam, a recognized cognitive therapist with years of experience working in the Fountain House and Recovery Clinic by Dr. Ahsan ul Haq Chisti gave a lecture and training for 4-6 hours.
The celebrations extended to guests from diverse fields on October 14, 2022, in which Dr. Nazish Idrees planned and announced further 4 special training series as the lead addiction trainer for those working in the field in collaboration with the psychiatric staff working at the organization. The weekend training will be given to the registered participants between December 2022 to March 2023 during weekend hours with credit hours of certification having 36 hours for each topic under the supervision of experts for 12 weeks. The objective is to equip associated field staff with the basic ability to counsel and intervene for prevention from worsening of the symptoms.
For anyone looking to enhance their skills in any of the offered training series, do contact via email for details and registrations (nazsha38 [at] gmail [dot] com)-spread the word!
Training 1-Care for adolescents and teens: Dialectical Behavior Therapy for substance abuse treatment, cravings and urge management
Training 2-Heal in the light of hope to outgrow the darkness: Dealing with self-harm and suicidal tendencies among young adults
Training 3-Treating chronic pain, dissociation and trauma among women with substance use and their parents using Acceptance and Commitment Therapy
Special series 4-The psychology of Lying: pathological lying and narcissism, partner's abuse in relationships, sexual dysfunctions and paraphilia case studies from life to crime
Cross-cultural experience to participate in International addiction-related educational events and funding award opportunities with tips on how to apply for the delegates would be shared to broaden the participant's view on their relevant goals as addiction professional. Guest lectures from Dr. Nouman (Addiction psychiatrist) and Dr. Azher (General physician) are welcomed as well. The chairman/CEO of the rehab was appreciated for their continuing efforts. Limited seats are given and participants will be selected based on their interests and experience. By the end of the series (possibly May 2023), the report on the outcomes will be presented.
The global theme was focused on "making mental health for all a global priority" United Nations Communication Toolkit was utilized as a guideline to impart knowledge. Special attention to areas that are unaddressed along with mental health showed reproductive and sexual health, Workplaces, Co-occurring illnesses like HIV/AIDS & Mental Disorders, Self-harm, process addictions and suicide, Youth, Women, parenting needs work. Lying, Paraphilias and sexual dysfunctions were added to highlight the association that we may overlook how lies are the gateway to all illnesses. One may do harm to self or others when lying as a continuous habit and overcome the obsessional urges when speaking the truth. It starts from there; obsessive and compulsive disorders may merge with addictive behaviours in the coming decade because of the overlapping characteristics.
Best Wishes from:
Dr. Nazish Idrees Chaudhary, PhD., M.S., M.Sc., B.Sc. (Clinical Psychology)
Assistant Professor & Researcher, Allied Health Sciences, The University of Lahore
Director Operations, Clinical Psychologist, Grace International Psychiatric and Addiction Rehabilitation Center
Consultant at Genova IVF centre and Khalid Clinic, Gulberg Lahore
Certified Dialectical Behavior Therapist
Certified Couple/Family Therapist
Certified Addiction Prevention and Treatment/Recovery Counseling Professional
Certified Neuro-linguistic programming and Hypnotherapist
Certified Diet and Nutritional Therapist
Certified Memory Improvement Therapist