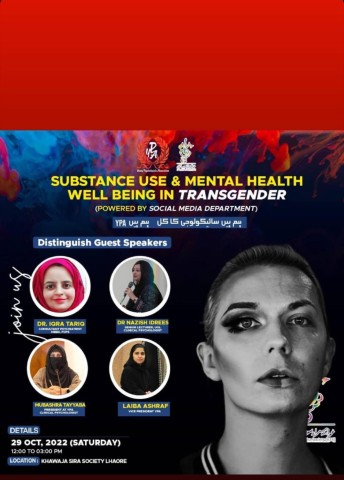 An event at a NGO in Lahore was organized to address the mental health and substance use among those living with gender dysphoria. They have complex challenges that vary from bullying, harassment, prejudice, discrimination in support and assistance for a satisfying life experience as minority. Health must not be compromised but have equal rights for everyone.
Unfortunately transgender in Pakistan are seen on streets for beggary and go through painful traumatic distress. Due to the stress and stigma, the rejection from society leads to addiction. They are at risk and it requires selective interventions to prevent them from further damage. Recently the law passed gave them liberty to choose their preferred gender identity with whom they identify rather than assigned sex to eliminate the gender identity disorder pressure on healthcare facilities and save the families. But that came as another storm that spread unacceptability and moral dilemmas in the culture.
Dr. Nazish commented that mental health is with everyone, having brain and life to survive all of our social interactions regardless of what they do and how they identify themselves must maintain their mental health and get adequate help for healing.
Best Wishes from:
Dr. Nazish Idrees Chaudhary, PhD., M.S., M.Sc., B.Sc. (Clinical Psychology)
Assistant Professor & Researcher, Allied Health Sciences, The University of Lahore
Director Operations, Clinical Psychologist, Grace International Psychiatric and Addiction Rehabilitation Center
Consultant at Genova IVF centre and Khalid Clinic, Gulberg Lahore
Certified Dialectical Behavior Therapist
Certified Couple/Family Therapist
Certified Addiction Prevention and Treatment/Recovery Counseling Professional
Certified Neuro-linguistic programming and Hypnotherapist
Certified Diet and Nutritional Therapist
Certified Memory Improvement Therapist