Published by
Observatoire français des drogues et des toxiconomies (OFDT)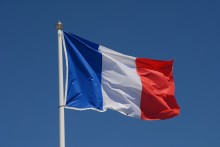 If you were asked to provide a list of things we most associate with French cultural identity, wine and cigarettes would probably feature. A recent survey, however, suggests that, as is generally the case across Europe, alcohol and tobacco consumption amongst adolescents in France has decreased over the past five years.
The last survey of this kind in 2011 showed that the percentage of teenagers reported to have tried a cigarette before their second year of high school was 66%. In the last five years, this figure has fallen by almost 10%. Similarly, the percentage of this age group who, in 2011, reported to smoke at least one cigarette a day was 31%. This now has decreased to 23%.
The director of Observatoire français des drogues et des toxiconomies (OFDT) François Beck attributes these declining levels to public health measures recently taken to de-normalise cigarettes such as the banning of smoking in schools and on public transport. Danièle Jourdain-Menninger, who is currently the president of the Mission interministérielle de lutte contre les conduites addictives (Mildeca), also anticipates that the forthcoming implementation of neutral cigarette packaging will only benefit these "encouraging" figures.
Nonetheless, there are several caveats to these latest results. Notably, for example, the percentage of 16-year-olds who admitted to having smoked within 30 days of being asked to take part in the survey was 26%. This remains 4% above the average figure for the 34 other countries involved. Another concern is the fact that while the percentage of regular smokers in their second year of high school was recorded as 19%, it was found to be 28% for those in their final year.
The figures for alcohol experimentation amongst teenagers in France makes for similar reading. The percentage of students in their second year of high school who admitted to having at least ten alcoholic drinks a month has fallen from 17% to 10% between 2011 - 2015. Drunkenness amongst this age-group, too, has decreased from around 62% to closer to 50% over the same period.
As is the case with the smoking figures, levels of alcohol consumption remain highest amongst those in their final year of schooling. The percentage drinking at least 10 alcoholic drinks a month, for instance, more than doubles to 21% between the second and final year of high school. This suggests alcohol and smoking prevention efforts ought to focus more heavily on terminale students.
The study also significantly found that marijuana usage in France over the period 2011 – 2015 has remained broadly the same. This is worrying because marijuana consumption amongst the target age-group is noted as being on average 10% higher than the rest of Europe.