Published by
Alcohol Change UK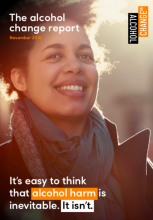 Alcohol Change UK have released their latest report, which highlights the state of alcohol use in the UK and recommends changes that will reduce harm and promote a healthier society.
The report gives a clear overview of the cost and problems that the UK alcohol-related harm cause and suggests ways of reducing harm, changing drinking behaviour and improving support for those who are affected by alcohol use.
It emphasises the importance of conducting research to uncover trends around the shifting nature of alcohol consumption, make predictions about future drinking habits, guide evidenced interventions and inform policy that will lead to change.
Finally, the report offers advice on the treatment and support available for all those who want help with their drinking.