Published by
Scottish Health Action on Alcohol Problems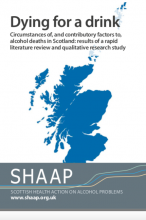 Scottish Health Action on Alcohol Problems (SHAAP) has published its latest report, 'Dying for a drink'. 
Scottish people tend to consume more alcohol than people in England and Wales. Alcohol is a harmful substance and, consumed in excess, can result in serious social, physical and mental health problems. Rates of alcohol related deaths in Scotland have been steadily decreasing since 2000 however the downward trend is levelling off. 
The purpose of the document is to gather information that will help develop the understanding of the particular risk factors associated with alcohol-related deaths, and to provide suggestions of evidenced interventions that can prevent and treat alcohol-related harm.
The publication presents a literature review of the latest research on factors contributing to alcohol deaths, as well as interview responses from people living in Scotland, whose lives have been negatively impacted by excessive alcohol consumption.
The hope is, that by gathering information from both an academic standpoint and the perspective of everyday people telling their story, a broad and in depth analysis of the situation on different levels can be gained. This can then help inform practical responses that are more likely to be efficient and effective at reducing alcohol related harm and death in Scotland.