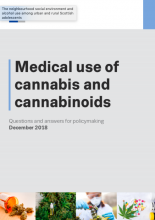 The European Monitoring Centre for Drugs and Drug Addiction have released their first report on the medical use of cannabis.
The report is part of a new series called Cannabis, Controversies and Challenges, and is designed to explore the complexities surrounding the issue and open up an informed discussion.
There has been a recent increase in patient interest in using cannabis and cannabinoids to treat a range of conditions, not without controversy and societal implications, making it a delicate subject to navigate.
This particular issue explores the evidence for, and practice of, making cannabis or cannabis-based medicines available for therapeutic purposes.  
The publication is designed for policy makers, practitioners, potential patients and the wider public and covers a summary of the evidence on the medicinal properties of cannabis and cannabinoids, an outline of the legal framework and finally examples of countries that have started to introduce the medical use of cannabis and cannabinoids.