Published by
Australian Criminal Intelligence Commission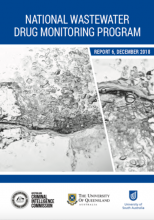 Wastewater analysis is widely applied internationally as a tool to measure and interpret drug
use within national populations, with the current national program in Australia representing world best practice. 
The National Wastewater Drug Monitoring Program report provides statistically valid datasets of drug use and distribution patterns across a large number of sites in capital cities and regional areas across Australia.
Some of the key findings:
Capital city cocaineand heroin average consumption exceeded regional consumption.
Alcohol and nicotine are the most consumed substances of those measured with available dose data.
When comparing data from August 2016 to August 2018, the population-weighted average consumption of methylamphetamine, cocaine,fentanyl, nicotine and alcohol increased, while consumption of MDMA andoxycodone decreased.
Of the drugs measured by the program that have available dose data, alcohol and nicotine continue to be the most consumed drugs in Australia, with methylamphetamine remaining the most consumed illicit drug.
The Chief Executive Officer Michael Phelan describes the action that is required to address the drug trends that have been uncovered through the national wastewater drug monitoring programme-  "It again reinforces that no single strategy can achieve sustained impacts and the ongoing necessity to employ a shared approach that targets supply, demand and harm reduction."