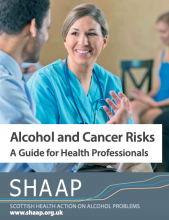 Drinking alcohol increases the risk of mouth cancer, pharyngeal (upper throat) cancer, oesophageal (food pipe) cancer, laryngeal (voice box) cancer, breast cancer, bowel cancer and liver cancer.
Having conversations with patients about the amount of alcohol they consume can be challenging. However, it is vital that health care professionals are fully informed and feel confident in advising services users about the potentially unexpected harm that alcohol can cause.
Scottish Health Action on Alcohol Problems (SHAAP) has published a brochure that examines the trends of alcohol-attributable deaths to cancer in Scotland.
The publication also includes guidance on the different treatment options, ways to prevent harmful alcohol use, and recommendations on how best to mitigate the risk of alcohol-attributable cancer and support those with alcohol-related problems.